FAA Drone Advisory Committee chair and renowned meteorologist to participate in largest trade show for unmanned systems and robotics industry
ARLINGTON, Va., Oct. 26, 2016 /PRNewswire/ -- The Association for Unmanned Vehicle Systems International (AUVSI) today announced Intel CEO Brian Krzanich as the first keynote speaker, and The Weather Channel meteorologist Jim Cantore as the host, of AUVSI's XPONENTIAL 2017, the largest trade show for the unmanned systems and robotics industry. The show is taking place at the Kay Bailey Hutchinson Convention Center in Dallas from May 8 to 11, 2017.

Krzanich, a general aviation pilot, joined Intel in 1982 and became chief executive officer in 2013. He oversees the company's innovations in unmanned aircraft systems, including tests to fly multiple UAS per pilot and its own UAS platforms. Prior to becoming CEO, he served as the company's chief operating officer, leading more than 50,000 employees from Intel's Technology and Manufacturing Group, supply chain operations, information technology, and other sectors.
"Unmanned vehicles, including drones, are some of the most dynamic technologies of the future, and well beyond recreation, they have the potential to improve people's lives, create new jobs and industries, and find solutions to real-world problems," said Brian Krzanich, Intel CEO.
At last year's XPONENTIAL in New Orleans, Administrator Michael Huerta of the Federal Aviation Administration named Krzanich the chair of the FAA's Drone Advisory Committee. The DAC, which held its first meeting in September, brings together key stakeholders from across government, academia and the aviation industry to determine how to safely integrate UAS into the national airspace.
Cantore is a meteorologist and storm tracker with The Weather Channel. He is one of the most recognizable faces in severe weather and has covered every major weather event of the past 30 years, including Hurricanes Katrina and Irene and Superstorm Sandy. When not in the field providing live reports and insights, he covers the latest forecast and weather news on "AMHQ," weekdays from 6 - 9 a.m. ET. He is also is a frequent contributor to NBC programs such as "Nightly News with Lester Holt" and "TODAY," as well as for NBC affiliates nationwide and multiple MSNBC shows.
More than 7,000 industry leaders and professionals from more than 55 countries are expected to attend XPONENTIAL 2017. The exhibit hall will showcase more than 600 cutting-edge companies from around the world, representing more than 20 industries. In addition, there will be more than 200 educational sessions, providing information about the future of unmanned systems policy, regulations and technology.
Registration for XPONENTIAL 2017 has opened. For more information, visit www.xponential.org.
The Association for Unmanned Vehicle Systems International (AUVSI) — the world's largest nonprofit organization dedicated to the advancement of unmanned systems and robotics — represents more than 7,500 members from more than 60 countries involved in the fields of government, industry and academia. AUVSI members work in the defense, civil and commercial markets.
Featured Product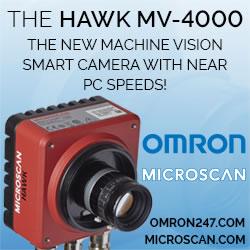 Awe-inspiring power and superior flexibility is sheathed within the contoured casing of the HAWK MV-4000. This smart camera builds upon the previous generation by quadrupling processing power and achieving real-time trigger response using an FPGA. Its state-of-the-art algorithms make it an excellent tool for any industry, whether the requirement be code reading, code verification, inspection, guidance, gauging or a combination of all four.