Collaborative Robots Market - Global Industry Analysis, Size, Share, Growth, Trends and Forecast 2016 - 2024
Collaborative robots are also known as cobots. This new technology is used in different factories and help the workers to perform their tasks by tracking them and corrects them if there occurs deviation from their tasks. This tends to be reasonable, accessible and it can physically interact with human. Collaborative robots are user friendly, flexible as compared to conventional industrial robots. They work as an assist device to humans and help increase the efficiency and quality of the work done.

PDF Sample For Latest Advancements with Technological breakthroughs
Collaborative robots market is expected to grow during the forecast period. The rising need for collaborative robots in automation industry is acting as a driver for this market and is expected to serve as a market opportunity for future growth. In addition various countries across the world are reviving up their electronics and consumer goods industry, which is in turn contributing to the growing demand for collaborative robots. Another addition, need for decreasing man power while operating various type of machine is driving the demand for collaborative robots worldwide. Additionally, the small and medium sized enterprises (SME) are focuses on higher return on investment facilities; therefore the reasonable collaborative robots are attracting them. Due to this factor the market of collaborative robots is boosting significantly and is expected to do same during the forecast period. However high technology industries such as IT sector, automotive sector, manufacturing hub, electronics and consumer goods and others are facing a challenge from short supply of skilled operators.Collaborative robots require expert operators for its complex technology. However, small and medium sized enterprises (SME) cannot afford to invest large capital to train the operators. This factor is likely to affect the growth of the collaborative robots market globally. With the increase in demand for collaborative robots, the companies are investing in proper training of the robot operators. Owing to these factors, the impact of this restraint is estimated to remain low during the forecast period.The ongoing technological advancement in the collaborative robots industry is acting as an opportunity for the market. Moreover with the inclination of different countries towards adoption of collaborative robots coupled with high payload carrying capacity cobots are generating opportunities and is expected to rise during the forecast period.
The market is segmented in four categories: by types, by application, and by industry and by region. By types the market can be divided intoplain software and hardware. Hardware segment can be further divided by sensor, drive, controller and others. In terms of application, the market can be divided into packaging, handling, quality testing, assembly, machine tending and others. In terms of industry, the market can be segregated into automotive, food and beverage, electronics and consumer goods, furniture and equipment, plastics and polymers, metal and machining and chemistry among others.
By geography, the market is segmented into North America, Europe, Asia Pacific, Latin America and Middle East and Africa. The study also covers major countries in all the regions such as The U.S in North America, The U.K, Germany, France, Russia, Italy and Rest of Europe in Europe, China, India, Japan and Rest of APAC in Asia Pacific, Brazil in Latin America and GCC is Middle East and Africa among others. However, Asia Pacific region is expected to see faster growth during the forecast period due to the presence of developing nations such as India and China. This growth is attributed to the availability of skilled workforce required to collaborative robots market.
The key players participating in the collaborative robots market are ABB (Asea Brown Boveri) Ltd. (Switzerland), FANUC Corporation (Japan), KUKA AG (Germany), Universal Robots A/S (Denmark), Robert Bosch GmbH (Germany), MRK-Systeme GmbH (Germany), Rethink Robots Inc., (U.S.) Energid Technologies (U.S.), Precise Automation (U.S.), F&P Robotics AG (Opfikon Switzerland), and others among others.
Featured Product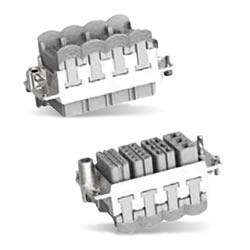 TE Connectivity's HDC Dynamic Module integrates the Dynamic series flexible signal and power solutions and the HDC Heavy Duty Connector series to form a solution of harsh environment connectors. TE's HDC Dynamic Module offers the top features of the two series. It uses the contact concept of the Dynamic series, with its proven performance in industrial uses and its cost effectiveness compared to legacy cutting contacts. The HDC connectors make the module a reliable solution for harsh environments. TE's HDC Dynamic Module supports 2A/32V to 40A/300V performance and 3 positions to 48 positions.