Delta industrial automation solutions lead new era of green and intelligent manufacturing
SHANGHAI, Nov. 3, 2016 /PRNewswire/ -- The 18th China International Industry Fair (CIIF) opened at the National Exhibition and Convention Center in Shanghai on November 1. Delta, a leading automation firm with operations in China as well as around the world, showcased a suite of automation and intelligent solutions with the tagline, "Intelligent Manufacturing, A Better Tomorrow", spanning four key segments: industrial automation, smart building, power quality and smart green life. In the industrial automation segment, Delta closely hewed to the guidelines for Industry 4.0, and "Made in China 2025" debuting five solutions focusing on intelligent manufacturing, including a robotic workstation, smart devices, facility monitoring, energy management and a smart factory. With the firm's overall proposal of a structure for the green manufacturing sector on display, Delta is well poised to help realize its vision for green and intelligent manufacturing.

On the first day of the 2016 CIIF, Delta GreenTech (China) vice chairman Jimmy Yiin was invited to attend the Second Future-oriented Manufacturing Summit where he delivered a speech on Delta's efforts in taking the lead in heralding a new era for green and intelligent manufacturing. He explained that Delta has been an established player in industrial automation for decades and is dedicated to the continuous research and development of innovative and energy-saving products and solutions, in line with the mission of delivering solutions that focus on environmental protection, energy saving, and caring for our planet. Specifically, in the intelligent manufacturing segment, Delta's industrial automation products can be effectively integrated with Delta's cloud platform and Internet of Things technology to provide customers with customized versions of the robotic workstation, smart devices, facility monitoring, energy management and intelligent plant solutions. In addition, manufacturers can also create highly efficient and energy-saving green and intelligent plants with remote monitoring and visual management functions for customers through a variety of energy saving technologies. With leading-edge technology and rich experience, Delta has helped many large manufacturers successfully transition into an intelligent environment and help customers improve their level of automation and intelligence.
Industrial robots play an important role in the evolution of intelligent manufacturing from concept to reality. During the event, Delta displayed its own robotic workstation solutions, showcasing the multiple functions that a robotic workstation will deliver in the unmanned factory of the future. The solutions efficiently combine industrial automation with several products developed in-house, among them, the robotic drive and control system, machine visualization as well as server drivers and motors that provide flexible, custom solutions based on individual client needs. Delta also held live demos of its industrial robots and solutions onsite.
The Vertical Articulated Robot DRV90L Series is Delta's new product line for 2016 as well as Delta's first vertical articulated robot. Its high flexibility allows for an optimized design based on the specific needs of individual customers. The product line has applications for electronic motors, rubber and plastics, metal products and machine manufacturing. The product series was put through the SCARA robot function tests in Delta's Wujiang Plant where they replaced manual operations, achieved a zero human error rate and shortened testing time by three fourths (in one case, reducing a 68 min. operation to 18 min, and, in another, improving testing efficiency by 74 percent). In addition, the articulated workstation, together with control and monitoring systems that automatically record test data, was connected to the Manufacturing Execution System (MES), enabling the provision of full production traceability while enhancing productivity and product quality.
The industrial robot SCARA DRS40L/60L series features superior speed and accuracy, allowing for accurate plugging-in, assembling, gluing and packaging, significantly improving productivity. Delta's production facility in Wujiang has been equipped with this robotic workstation solution for finished product detection, gluing tracking, automated screw tightening as well as soldering and other processes, helping improve the efficiency and quality of processing and streamlining operations. The DRS60L series is now serving the fan rotor assembly line at Delta's Wujiang Plant, supporting the pick-and-place of fan blades with a suction device, fully eliminating the need for manual operations and increasing the production capacity from 500 to 600 units per hour while maintaining a consistent level of quality assurance.
The DELTA high-speed parallel robot solution, which combines Delta's robot drive and control system ASDA-MS series with machine visualization and servo motors, provides customers with a high performance and high applicability option. It marks Delta's pioneering approach to applying product integration into future intelligent production lines.
In addition, the company's key new products for 2016, including the high-performance motion control AC servo ASDA-A3 series and the next-generation IP55 draught fan pump frequency converter CFP2000 series, were also displayed at the event. Delta also showcased its intelligent building, power quality and intelligent green life solutions, demonstrating diversified applications for its green and smart products.
At CIIF 2016, Delta's exhibits also included the Industry 4.0 Customized Laser Engraving Plant solution developed by Xiamen University, the winner of the 3rd Delta Advanced Automation Contest. The solution was created solely using Delta's industrial automation products. The laser engraving machine, connected to a cloud-based database, allows customers to order a laser engraved product by placing an order and then selecting their preferred pattern with their smartphones through the solution's official account on WeChat, China's leading social media platform. The unique interactive functionalities and specific application of an Industry 4.0 practice attracted a large number of visitors who were interested in experiencing the solution at the booth. One visitor said that, in addition to the in-depth exploration of green and intelligent manufacturing solutions, Delta also provides a good example of developing the skill sets necessary for addressing the needs of the automation industry.
The manufacturing industry is becoming increasingly green and intelligent, creating two major challenges that need to be addressed by manufacturers as they transform and upgrade their businesses. Looking forward, Delta plans to capitalize on its advantages and experience in the environmental protection, energy saving and intelligent manufacturing fields, in an effort to allow every customer to "do it their way", anytime and anywhere, as well as help manufacturers improve their overall competitiveness and work closely with its customers to create a smart green life.
About Delta
Delta, founded in 1971, is a global leader in power and thermal management solutions and a major player in several product segments such as industrial automation, displays, and networking. Its mission statement, "To provide innovative, clean and energy-efficient solutions for a better tomorrow," focuses on addressing key environmental issues such as global climate change. As an energy-saving solutions provider with core competencies in power electronics and innovative research and development, Delta's business domains include Power Electronics, Energy Management, and Smart Green Life. Delta has 153 sales offices, 60 R&D centers and 38 manufacturing facilities worldwide.
Throughout its history, Delta has received many global awards and recognition for its business achievements, innovative technologies and dedication to corporate social responsibility. Since 2011, Delta has been selected as a member of the Dow Jones Sustainability™ World Index (DJSI World) for 6 consecutive years. In 2014, Delta was ranked by CDP (formerly the Carbon Disclosure Project) at the highest A-level of the Climate Performance Leadership Index (CPLI), and is the only company from nearly 2,000 listed companies in Greater China to make the CPLI list.
For more information, please visit our website: www.delta-china.com.cn
Featured Product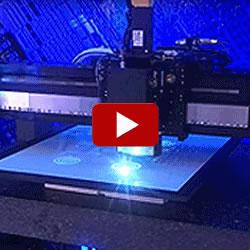 Hexapod micro-motion robots are based on very flexible concept that can easily solve complex motion and alignment problems in fields including Optics, Photonics, Precision Automation, Automotive, and Medical Engineering.