The new AG-360 automatically guided portable stretch wrapper features improved battery life and reduced material usage, as well as an intuitive interface to support all levels of user knowledge. (Orion Pack Expo Booth #S-3842)
Orion Packaging, powered by Pro Mach, introduces at Pack Expo 2016 in Chicago, November 6-9, the companys first automatically guided portable stretch wrapper designed for those distribution centers and manufacturers looking for greater flexibility in securing pallet sized and larger loads. Additional highlights include improved load protection and assured material savings. (Orion Pack Expo Booth #S-3842)

AG-360 Product Background
Warehouse personnel bring the new AG-360 automatically guided portable stretch wrapper to the load rather than the load to the stretch wrapper. The AG-360 automatically guides itself around the pallet or product, wrapping as it goes and adapting to the loads size and shape.
AG-360 is ideal for those industrial and retail product manufacturers that in the past have resorted to manual wrapping because stationary units simply could not deal with the unusual dimensions of the load or product. Because the AG-360 is not confined to specific load or product dimensions, this machine is ideal for pick-to-order distribution centers and other warehouse environments where each day and every load is different.
"This holds especially true for Internet-based retail sales operations where a wide assortment of items are shipped on a daily basis," says Peter Vilardi, Director of Marketing at Orion. "All of these end use companies will find the unit ideal for its portability - it moves like a pallet jack and conforms to the load." In addition, this machine is relatively small in size, which helps for ease of storage.
Additional Product Features
The AG-360 features a more powerful battery and sophisticated power monitoring system that lengthens the time between charging. This extends battery life, now lasting longer in comparison to competing wrappers, and the system also alerts operators when charging is needed.
The choice of 200 or 260 percent pre-stretch provides for variability in load stability requirements while minimizing material usage. The 7 inch IntelleVue HMI, which features intuitive graphical symbols, assists with easy operation and places extensive maintenance documentation on the machine for quick access. Customers who already own Orion stretch wrappers will find the HMI operationally identical to interfaces their personnel are already accustomed to.
These rugged units were designed and built in the US. Parts are readily available as is technical support.
Visit the Orion Booth #S-3842 for a demonstration of the innovative AG-360 automatically guided portable stretch wrapper. For more information on Orion stretch and pallet wrappers, call 800-333-6556 and visit http://www.OrionPackaging.com.
About Orion
Orion Packaging, powered by Pro Mach, manufactures and sells heavy duty industrial stretch and pallet wrapping systems for beverage, food and drug, consumer products, and printing/publishing industries. It offers semi-automatic stretch wrapping turntable machines, and semi-automatic and automatic stretch wrapping rotary tower systems, as well as orbital, automatic, semi-automatic, and specialty stretch wrap systems. The company is based in Alexandria, Minnesota, and offers its products through a network of distributors. For more information, visit http://www.OrionPackaging.com.
About Pro Mach
Pro Mach is a leading provider of integrated packaging and processing products and solutions for food, beverage, consumer goods, pharmaceutical, and other diverse companies. Through multiple brands, Pro Mach provides product packaging and processing equipment, PMMI certified trainers, installation, parts, and service in Bottling & Capping, Primary Packaging, Pharmaceutical Packaging, Flexible Packaging, Material Handling, Labeling & Coding, and End of Line, as well as Integrated Solutions for complete packaging lines.
Pro Mach has a diverse customer base, from Fortune 500 companies to smaller, privately held businesses worldwide, which depend on reliable, flexible, technologically advanced equipment and integrated solutions. Pro Mach is headquartered near Cincinnati, Ohio, with manufacturing facilities and offices throughout the United States, Canada, Mexico, Europe, United Arab Emirates, and China. For more information about Pro Mach, please visit http://www.ProMachInc.com.
Featured Product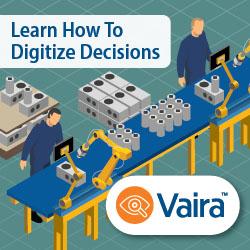 Pleora's AI Gateway provides a hybrid approach that allows system designers, integrators, and end-users to add more advanced AI capabilities alongside existing sensor sources and classic computer vision algorithms.