Stuttgart underscores its position as the world's leading trade fair for machine vision / almost 10,000 visitors from 58 countries were our guests
Stuttgart underscores its position as the world's leading trade fair for machine vision / almost 10,000 visitors from 58 countries were our guests

Stuttgart is and remains the No. 1 industry meeting point for machine vision: VISION closed with record exhibitor and visitor numbers - organisers and partners are more than satisfied with the initial figures. "This year's event showed once again that VISION is and remains the most popular industry highlight for anyone who deals with machine vision," explained Ulrich Kromer, President and CEO of Messe Stuttgart happily at the end of three packed and successful event days. Thomas Walter, Divisional Director Industrial Solutions adds: "The number of product launches, as well as the numerous company anniversaries celebrated here, underline once again that VISION is the absolute "must attend" event with international appeal."
The machine vision sector is booming worldwide - VISION is also benefiting from this market euphoria. "We are thrilled with the high visitor numbers, increased internationality and massive interest in machine vision. For three days, VISION was the global centre for machine vision and once again demonstrated its status as the world's leading trade fair," concluded Dr. Olaf Munkelt, CEO of MVTec Software and Chairman of the Board of VDMA Machine Vision. "The quality of discussions and the increased interest in machine vision in particular confirmed that machine vision technology is no longer confined to a factory environment but is now an integral part of our everyday lives. This was also clear from this year's trending topic - embedded vision. We are already looking forward to VISION 2018."
Trending topics act as visitor magnets
After Messe Stuttgart started the exhibition with a slight increase (+2%) in exhibitors and a higher percentage from abroad (+3% rise to 57%), it also recorded an increase in visitor numbers in 2016 (+13%). The number of visitors from abroad also rose. "Machine vision is the technology that makes robotics and automation possible," explains Florian Niethammer, before continuing "and VISION is the only event worldwide at which all users can find out about the entire breadth of machine vision technology on this scale." Embedded vision, hyperspectral imaging and 3D machine vision, in particular, attracted almost 10,000 visitors from 58 countries to Stuttgart. According to Florian Niethammer, Team Director of VISION: "The exhibitors were naturally thrilled with this. The companies commented that the increase in the number of visitors could be clearly felt and stressed the particularly high quality of contacts." The lively buzz in the forums was very striking as well - many visitors insisted on attending one of the over 90 top presentations held.
Embedded Conference in the intervening year between VISION
In 2017 Messe Stuttgart and the EMVA (European Machine Vision Association) will hold the first European Embedded Vision Conference. "We have increasingly observed in recent months how important the "embedded" issue is. We are dealing with an overarching technology here, which is of significant relevance in industrial as well as in non-industrial sectors," explains Florian Niethammer. "It is a logical step to organise a conference for developers and users of embedded vision systems together with our long-standing partner. The theme is booming, which is why we are organising it with a strong partner. The "Embedded VISION Europe 2017" will be held from 12-13 October 2017 in the International Congress Center Stuttgart (ICS).
The date for the next VISION trade fair is already fixed: in two years the world's leading trade fair for machine vision will be held from 6 - 8 November 2018.
Featured Product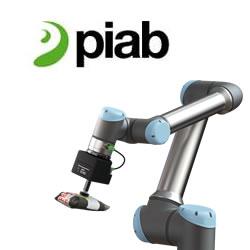 Piab's Kenos KCS gripper enables a collaborative robot to handle just about anything at any time. Combining Piab's proprietary air-driven COAX vacuum technology with an easily replaceable technical foam that molds itself around any surface or shape, the gripper can be used to safely grip, lift and handle any object. Standard interface (ISO) adapters enable the whole unit to be attached to any cobot type on the market with a body made in a lightweight 3D printed material. Approved by Universal Robots as a UR+ end effector.