The deliveries were conducted in New Zealand as part of Flirtey and Domino's Pizza Enterprises ongoing drone delivery testing.
RENO, Nev., Nov. 15, 2016 /PRNewswire/ -- Flirtey and Domino's Pizza Enterprises Ltd (Domino's) today began autonomous delivery of pizzas from Domino's stores to select customer homes, the first such deliveries anywhere in the world.

The deliveries were conducted in New Zealand as part of Flirtey and Domino's Pizza Enterprises ongoing drone delivery testing.
Currently available to select customers, the two companies plan to launch pizza-by-drone deliveries at increasing scale in the near future. Flirtey's leading drone delivery service and safety technology will ensure precise, safe and efficient deliveries of fresh Domino's pizza to customers.
The store-to-home flights are made possible by Flirtey's advanced autonomous technology, complex safety systems and special packaging that have all been designed to complete deliveries across a variety of weather conditions and flight paths in suburban environments.
"We are moving closer and closer to widespread store-to-door drone delivery," said Matthew Sweeny, CEO of Flirtey. "To conduct these deliveries in an urban environment while delivering a hot, fresh pizza, is a ­­­validation of our delivery system that assures Flirtey is prepared for mass market deliveries around the globe."
A recent customer poll found that 70 percent of Domino's customers would use DRU Drone by Flirtey for their deliveries.
"We are thrilled with the results of our trials, and look forward to expanding DRU Drone by Flirtey soon," Domino's Group CEO and Managing Director Don Meij said. "We invested in this partnership, and technology, because we believe drone delivery will be an essential component of our pizza deliveries, so even more customers can receive the freshest, hottest pizza we can offer."
"Drones offer the promise of safer, faster deliveries to an expanded delivery area, meaning more customers can expect to receive a freshly-made order within our ultimate target of 10 minutes. This is the future," Mr. Meij said.
The use of DRU Drone by Flirtey as a delivery method is designed to work alongside Domino's current delivery fleet and is being fully integrated into online ordering and GPS systems.
The Flirtey drone is constructed from carbon fibre, aluminium and 3D printed components. It is a lightweight, autonomous and electrically driven unmanned aerial vehicle. It lowers its cargo via tether and has built-in safety features such as low-battery return-to-safe-location programming and auto-return-home commands in case of low GPS signal or communication loss. The personal, on-demand delivery service developed by Flirtey, using proprietary software and hardware, represents a new age of delivery for a new generation of consumer.
The two companies successfully exhibited the first stage of their partnership with a demonstration of pizza delivery by drone in Auckland, New Zealand on August 25th 2016. The historic event was attended by the Civil Aviation Authority and Minister of Transport Simon Bridges.
Video available upon request. Photos can be accessed here: https://www.dropbox.com/sh/1cbsfhhdfipz964/AAAXaHI1cysdRGQIL3Hqxypua?dl=0
About Flirtey:
Flirtey is the world's leading drone delivery service, with a mission to save lives and change lifestyles by making delivery instant. The startup has worked with NASA, and top universities to create the technology and logistics systems for a mass-market drone delivery network. Flirtey was also the first company to conduct an FAA-approved delivery in the U.S., the first to perform a fully autonomous drone delivery to a home and the first to launch a commercial drone delivery service. Flirtey's landmark achievements have been recognized by the Smithsonian Institution for display at its Air and Space Museum, which accepted a Flirtey drone to join other iconic American aircraft, including the Space Shuttle Discovery and the Wright Flyer, on display at the museum. Learn more at www.flirtey.com
Featured Product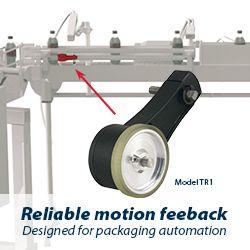 EPC is excited to announce our NEW online 3D Configurator. This new tool makes it even easier to configure EPC's products exactly how you need them for your application. The 3D Configurator interface is intuitive and works in any web browser for both desktop and mobile. It'll only take you a moment to learn your way around the program. Careful, though: it's so fun to play with, you may spend a whole afternoon on it!