Remtec Automation sees uptick in automated robotic pick-and-place, palletizing and case-packing conveyor projects due to tight labor market in manufacturing.
Mason, OH - November XX, 2016 - Remtec Automation, LLC, a leader in flexible robotic automation, today announced it has seen a sharp rise in the number of automated robotic material handling pick-and-place, palletizing and case-packing projects. The company is a Level IV servicing integrator for Fanuc Robotics, and has a 35-year history of designing and installing turnkey robotic automation solutions for material handling applications.

"There is currently a great demand for material handling systems, especially those focusing on using automation to solve labor shortage issues," said Lisa Ryle, president of Remtec Automation. "Its an easy investment for manufacturers to make because of the quick return on investment. Robotic pallet and case handling conveyor systems are highly-efficient, low-risk automation projects. Our customers have been very pleased with their outcomes."
The current low unemployment rate in the US has led to shortages for key experienced material-handling operators in the manufacturing industry. The labor shortages have resulted in increased demand for automated robotic systems in order to keep the manufacturing production lines running at required capacity. Remtec Automations success with automated robotic material handling systems has also been enhanced by the quality and efficiency of their completed projects.
Remtec Automations material handling systems are designed to the clients specifications, and offer handshake integration to existing upstream or downstream equipment. Automated robotic systems typically include such features as multiple integrated conveyor lines, robotic palletizing cells, pneumatic manipulation, photo-eye sensors, powered conveyors, multiple HMIs, vision inspection and state-of-the art light curtain integrated safety features.
In addition to being a Level IV Systems Integrator for Fanuc Robotics, Remtec Automation recently announced its appointment as a Cognex Certified System Integrator (CSI) in North America.
About Remtec Automation, LLC
Founded in 1981, Remtec Automation has designed, built, and installed hundreds of turnkey custom automation and robotic systems for applications in material handling, machine tending, packaging, palletizing, depalletizing, inspection, assembly, material removal, dispensing and spraying. Remtec Automation serves customers in a wide range of industries including automotive, consumer products, food, beverage, electronics, medical, and pharmaceutical. Remtec Automation is a Fanuc Robotics Level IV Systems Integrator, Certified Vision Systems Integrator and Certified Servicing Integrator. For more information, visit http://www.remtecautomation.com/.
Featured Product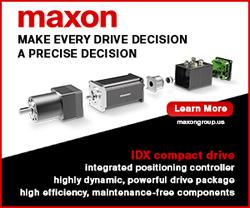 A brushless DC motor solution for use in hip and knee exoskeletons. This complete joint actuation unit consists of motor, gearhead, encoder and position controller. Fitting absolute encoder directly at the joint rotation provides designers increased positioning accuracy. The unit will deliver 54Nm of continuous torque and 120Nm on a 20% duty cycle. The system can be operated on supplies between 10 and 50V DC and the actuation speed is up to 22rpm.