Tolomatic's new electric linear rod actuator is more efficient, accurate and flexible compared to hydraulic cylinders--and without the messy leaks or noisy operation of hydraulics.
HAMEL, Minn. - Tolomatic's new RSX hydraulic-class electric linear rod actuator meets the need for extreme forces and is an ideal choice for replacing hydraulic cylinders. Designed and tested for 100% duty cycle, the actuator's roller-screw drive ensures long, consistent life. Applications include pressing, punching, stamping; riveting, fastening, joining; injection molding; and sawmilling.

The Tolomatic RSX family of hydraulic-class actuators will be capable of 50,000 lbf/222.5 kN or higher. The initial offering, the RSX-096, is capable of 30,000 lbf. The actuator's heavy duty construction includes tie-rods and Type III hardcoat anodized aluminum or zinc-plated steel. A standard anti-rotate feature prevents the rod from rotating without external guidance. Rated IP67, the actuator resists water from a light washdown and dust from outdoor environments. The RSX actuator is also designed and rated for extreme conditions including cold-weather operation.
Tolomatic's "Your Motor Here" feature allows for servo motors and gearboxes up to 215mm frame size. Additional features include an access port for re-lubrication to maximize service life and a breather/purge port to prevent ingress into the actuator.
About Tolomatic
For more than 60 years, Tolomatic has been a leading supplier of electric linear actuators, pneumatic actuators and power transmission products for factory automation. Its extensive product line also includes servo-driven high-thrust actuators, servo motors and stepper motors, stepper drives and configured linear-motion systems. Tolomatic's electric linear and pneumatic actuators are used in a variety of industries, including the packaging, material handling, medical, food processing, automotive, semiconductor and general automation industries. For more information, contact Tolomatic, 3800 County Road 116, Hamel, MN 55340. Phone: 763-478-8000 or 800-328-2174. Website: www.tolomatic.com.
Featured Product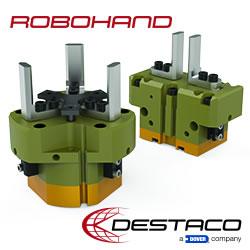 Destaco's Robohand RDH/RTH Series 2 and 3 jaw parallel grippers have a shielded design that deflects chips and other particulate for a more reliable, repeatable operation in part gripping applications ranging from the small and lightweight, to the large and heavy. RDH Series of Rugged, Multi-Purpose Parallel Grippers for Heavy Parts - Designed for high particulate application environments, automotive engine block, gantry systems, and ideal for heavy part gripping The series includes eight sizes for small lightweight to large/heavy part gripping. RTH Series of Powerful, Multi-Purpose Parallel Grippers for Heavy Parts - Designed for large round shaped parts, automotive engine block and gantry systems, and heavy part gripping. They're available in eight sizes for small lightweight to large and heavy part gripping.