A-Tech will offer full line of Cartesian, 6-Axis and SCARA robot systems for automation and materials handling needs in a variety of industries
MONTREAL & ELK GROVE VILLAGE, Ill.--(BUSINESS WIRE)--FROM ADM BOOTH #1523 - Today TM Robotics and Toshiba Machine announced they have partnered with A-Tech Instruments Ltd., which supplies a variety of measurement and control instrumentation for research and industry, to sell and support Toshiba Machine robots in Canada. Following a dedicated search over the past year, TM Robotics executives met with A-Tech and found the company was just the partner they were looking for - focused, driven, and possessing a proven track record of customer success throughout Canada. With this new relationship, A-Tech will now be able to offer its large variety of customers a solution for any of their automation challenges with the full range of robots from Toshiba Machine, one of the only robotics companies in the world that delivers every type of robot a customer could want (Cartesian, 6-axis and SCARA).

A-Tech provides manufacturing automation, quality control, product development and product testing - the building blocks needed to achieve the measurements a customers application requires. It serves several industries, including automotive manufacturing and research; aerospace research and production; power generation research; structures, buildings and bridges; biomechanics research; and rail and heavy machinery, which is why a partnership that offers a variety of robotic options is so important.
"One of the key things that drew us to TM Robotics wasnt just the power of its comprehensive line of Toshiba Machine robots, it was the stellar technical support their team provided," said David Wilkinson, Operations Manager at A-Tech. "We feel that the combination of what our two companies offer - from automation to support - is going to be fundamental to the success of the Toshiba Machine robot business in Canada, and were thrilled to be a key part of it."
TM Robotics and A-Tech are officially kicking off their relationship at the Advanced Design & Manufacturing Expo (ADM) from November 30 through December 1 in Montreal, Canada, where they will be exhibiting Toshiba Machines THL300 robot.
The THL300 SCARA model satisfies the growing demand for affordable, flexible automation in applications outside of the traditional robot industries. In addition, because the lightweight system generates substantially less inertia, a simplified gearbox has been used. The net result is that these robots are the most energy efficient in their class.
"Canada will play a big role in our expansion plans for North America, so were thrilled to finally have a driven team like A-Tech on board to sell our Toshiba Machine robots there," said Nigel Smith, CEO of TM Robotics. "Were looking forward to officially kicking off our partnership at ADM."
ADM exhibition hours will run from 10:00 a.m. - 5:00 p.m. on Wednesday, November 30, and from 10:00 a.m. - 4:00 p.m. on Thursday, December 1. For more information, visit http://admmontreal.com/en/expo.
About TM Robotics
TM Robotics, in partnership with Toshiba Machine, offers a comprehensive range of Toshiba Machine Industrial Robots ideally suited for high-precision assembly, machine loading/unloading and material-handling applications that can be dust proof, clean room, or IP65/67. The companys extensive product line starts with a Cartesian solution available in thousands of combinations, from single actuators to four-axis solutions to six-axis solutions that can include precise vision-control, as well as a complete range of SCARAs, from low cost to the industry-leading SCARA with 1200-mm reach that can carry up to 20 kgs. TM Robotics sells and services robots throughout Europe, Australia, the Middle East, India, Russia, Oceania and Africa, as well as North, Central, and South America. European headquarters are in Hertfordshire, England, and U.S. headquarters are in Elk Grove Village, IL. For more information, visit www.tmrobotics.com or follow the company on Twitter, LinkedIn and YouTube.
About A-Tech Instruments Ltd.
A-Tech Instruments Ltd. provides a wide range of products and services, such as Sensors, Signal Conditioners, Indicators, Data Acquisition, Simulators and Control Systems, as well as Automated Test Systems. The company also serves a variety of industries for the measurement of physical and electrical parameters in Research, Development, Process Monitoring & Control, with offices in both Montreal and Toronto, Canada. For more information, visit www.a-tech.ca, call 1-888-754-7008 or email sales@a-tech.ca.
Featured Product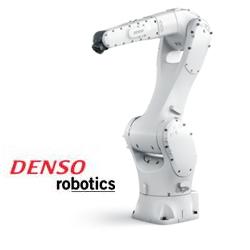 The new VMB series represent some of the newest members to our 6-axis family of robots. These high-performance, versatile units offer a longer arm reach and a higher load capacity than traditional models which make VMB an excellent solution for palletizing, packaging, and material handling. New features include greater air piping, valve and signal line options, as well as new programming options with state-of-the-art functions using our new WINCAPS Plus software. VMB offers an IP67 protection grade along with meeting ISO Class 5, which makes them suitable for electric parts, food manufacturing processes, and pharmaceutical and medical devices. With the addition of the new VMB large robots, all manufacturing processes can now be automated by DENSO Robotics.