Confederation of Indian Industry (CII) is organizing the India Industrial Automation Show 2017(IIAS 2017)(International Exhibition and Conference on Automation Industry) from 2nd -4th February, 2017 at Pragati Maidan, New Delhi, India. IIAS 2017 will be held along with CII's flagship event, IETF 2017.
Industrial automation is gaining more importance on account of the rising efforts to make manufacturing processes more efficient and reduce defect rates. Automation systems with advanced features are being deployed in all the major sectors such as automotive, chemicals, manufacturing, and mining, etc., to perform a number of complex tasks and consistently provide customers with superior quality products. The installation of advanced communication networks is also facilitating in optimizing workflow in production facilities.

Key Features:
• International Pavilions
• 3 Days International Exhibition.
• Global buyers to explore business & partnership opportunities
• Delegations from different parts of the world.
• Automation Industry Associations (AIA) Training Zone.
• Dedicated conferences & seminars
• Overseas industry & government delegation
• 300+ exhibitors/ 200 overseas buyers/30,000 Business Visitors
Opportunities:
The opportunities in automation sector in India across various verticals are growing
multifold. Increasing population, present lower per capita consumption and
increasing purchasing power is driving the demand upwards. Whereas on one
hand, the opportunities are on account of additional capacities being put in place to
meet growing demand. On the other hand, the level of automation, which is
relatively low in India as compared to global standards, itself is being redefined
upwards. Over all, the environment is encouraging for automation industry in India.
Growth Drivers:
• The economic growth in India is amongst the highest in the world, helped by a reorientation of government spending toward needed public infrastructure.
• Recognising the lying potential in the domestic as well as global market, thegovernment of India has also taken initiatives to put a target for enhancing the manufacturing sector's contribution to 25 per cent of the GDP by 2025.
• Going beyond conventional use, today, the trend is to integrate manufacturing processes with IT by way of MES (Manufacturing Execution System) and PLM (Product Lifecycle Management), so that the efciency improvement is extended beyond manufacturing process to the complete value chain of the organization.
• As labour is becoming more expensive, factory automation is also gaining ground.
Manufacturers recognise the need to automate their processes, and now robotics is coming into use in appreciable way.
• In future, the pressure on efciency (and production costs) will go up, forcing the manufactures to implement highly efcient processes. 'Transparency' of production processes to ensure 'tracing and tracking' of the products manufactured will also be a necessary requirement.
Regulatory, safety and environmental demands will become more stringent and adherence to them will be mandatory.
• In energy sector having recognised more than 35 per cent of energy produced is not accounted for (AT&C losses), emphasis is being given for the electrical automation, transmission, and distribution by way of implementing SCADA, and smart grid.
• Electricity generation in the country during the current year registered a growth of 4.4 per cent, it said adding, a total of 3030 MW of grid-connected power generation capacity from renewable energy sources like solar and wind has been added so far this fiscal, taking the cumulative generation capacity in the country to over 38,820 MW.
Policy Matters:
Efforts are on to create a very conducive & incentivized ecosystem for R&D, also bring policy changes wherein indigenously developed instrumentation/automation products get overriding priority for usage in India. Further, indigenously developed products need to get certied by Indian Laboratories & certication bodies only for usage in India. Today many users ask for certication from overseas bodies. This requirement should be eliminated. There are some more policy changes required which are common with all process plant equipment.
Featured Product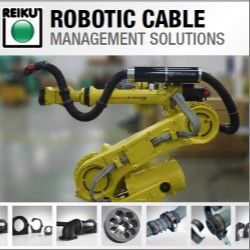 REIKU's Cable Saver™ Solution eliminates downtime, loss of revenue, expensive cable and hose replacement costs, maintenance labour costs. It's available in three sizes 36, 52 and 70 mm. All of the robots cables and hoses are protected when routed through the Cable Saver™ corrugated tubing. The Cable Saver™ uses a spring retraction system housed inside the Energy Tube™ to keep this service loop out of harms way in safe location at the rear of the Robot when not required. The Cable Saver™ is a COMPLETE solution for any make or model of robot. It installs quickly-on either side of the robot and has been tested to resist over 15 million repetitive cycles.