Automated ball valves are the first in a new generation of process valve solutions from Festo.
HAUPPAUGE, NY — Festo introduced today a competitively priced, single sourced automated ball valve solution for process applications that offers fast delivery, world class quality, and global support. This is the latest entry in a Festo development initiative of next generation actuators, sensors, and other accessories.

Festo automated ball valves feature the companys new VZBE ball valves, DFPD quarter turn actuators, VSNC NAMUR pilot valves, and the SRBC family of open/close sensor boxes. For proportional flow applications, Festo offers the feature-rich, yet cost effective, CMSX digital positioner.
End users, OEMs, and engineering companies simply provide the Festo Customer Solutions group or Festo distributors with the requirements of the valve. Festo sizes the components and at the customers request provides all the pieces in a single box or ships a fully automated valve assembly ready for installation and wiring. A unique part number will be issued for ease of reordering and field support.
The VZBE family of NPT ball valves is available in a two-way or three-way design. With a 316 stainless steel body and Teflon seats, these valves are rated up to 1,000 psi and 400° Fahrenheit (200° C). For sanitary environments, Festo also offers the 3A approved VZBD ball valve family with tri-clamp and welding connections. And for fire-safe applications, the API607 approved VZBF is available with ANSI flange connections.
The key customer advantages of the new Festo ball valve solution include:
• One stop shop for automated ball valves
• All components are Festo catalog items with Festo world class quality, delivery, and support assured.
• The quarter turn actuator, pilot valve, sensor box, and digital positioner either are new or represent recent developments for incorporation of the latest capabilities.
• The components seamlessly integrate.
• The solution is price competitive.
• Aesthetically the solution is superior to automated valves that feature bits and pieces cobbled together from different suppliers. Each component is recognizably from Festo. The integrated valve projects an image of quality and substance.
• Companies that begin working with Festo automated process valves now pave the way for adoption of major innovations and designs that are currently in development.
For more information on the new automated ball valve solution and an opportunity to look at specifications and capabilities of the VZBE ball valves, DFPD quarter turn actuators, VSNC pilot valves, SRBC sensor boxes, and CMSX digital positioners, visit www.festo.com/us and call 800-993-3786. Also visit Festo Process Automation webpages to learn more about the companys global capabilities.
###
About Festo
Festo is a leading manufacturer of pneumatic and electromechanical systems, components, and controls for process and industrial automation. For more than 40 years, Festo Corporation has continuously elevated the state of manufacturing with innovations and optimized motion control solutions that deliver higher performing, more profitable automated manufacturing and processing equipment.
Connect with Festo: Facebook, LinkedIn, Twitter and YouTube.
Featured Product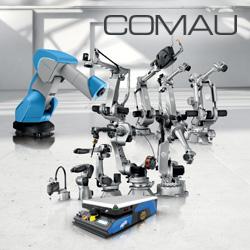 The Factory 4.0 ready Agile1500 AGV is equipped with a long lasting lithium battery and can adapt to accommodate diverse manufacturing needs. The two laser scanners on the front and rear guarantee efficient and safe navigation. Comau's AGV has the best in class payload to size ratio, capable of transporting up to 1.5 tons; it can be reconfigured with specific automatic and flexible equipment and is suitable for a wide range of industrial and logistical sectors.