Combat UAS veteran owned, Unmanned Systems and Solutions can repair consumer and commercial drones in our 120,000 square foot US facility. Most repairs take less than a week.
Over 2.5 million drones are expected to enter US skies this year, many of them requiring repairs after operational use. Unmanned Systems and Solutions (USAS) today opened their 120,000 square foot professional drone repair facility capable of quickly repairing drones from most major manufacturers. In partnership with a 36-year-old telecommunications and technology repair business, USAS can receive, evaluate, and repair drones with its team of American based, highly experienced technicians.

"Flying Scan Eagle combat missions in Afghanistan, I learned how important a robust repair capability was to our operations" said USAS founder Pete Dwyer. "I was surprised upon returning home that no nationwide, highly professional repair capability existed in the US. Thats why we founded USAS."
Starting on USAS web site at http://unmannedsas.com, consumers, commercial, and government UAS operators can generate a mailing label to ship their drone for evaluation. USAS will provide a repair cost and time estimate within 48 hours for an industry-low evaluation fee of $29.95. Most repairs take less than a week and average around $200. USAS has in-house repair, parts fabrication, and testing facilities run by technicians with decades of experience repairing highly sensitive and mission critical electronic equipment.
"Weve assembled a team of combat proven UAS operators, military veterans, and entrepreneurs who have operated UAS in commercial, government, and recreational settings. We understand how important it is to get you back in the air" Dwyer commented.
USAS is a combat veteran owned small business with offices in Chicago, Washington DC, Tampa, and Toronto. In addition to its repair capabilities, the company provides UAS operational services and UAS regulatory consulting to commercial and government operators.
For more information or to start a drone repair, go to our website.
Featured Product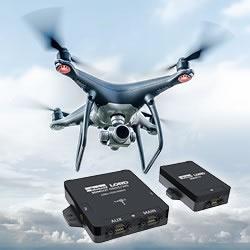 The C-series high performing inertial sensor package provides an OEM form-factor that is optimized for size and weight in Off Highway, Unmanned Ground Vehicles/Mobile Robots and Unmanned Aerial Systems. It's compact and low-profile anodized aluminum housing can be connected directly to a printed circuit board using a UART header or a Samtec FFSD ribbon cable and 2-56 fasteners.