Online-Devices is pleased to announce the new USB/TCP industrial controller series from Intelligent-Appliance. These new controllers include 32, 48 or 64 relays, of up to 277 VAC @ 10 Amp.
The series features 2 types of controllers: USB controlled IA-3132-U2i / IA-3172-U2i, and Ethernet controlled - IA-3152-E. All the controllers might be locally extended to control thousands of relays using a single communication channel.

The main communication interface, be it USB or Ethernet interface, is eclectically isolated from the managing computer thus improving the systems resistance to noise immensely, and avoid the chance of a ground loops.
Wiring 64 relay is usually a complicated task, both in the initial installation and during system service. These new controllers feature two means to get the task done in a better, easy and efficient way:
- The controllers are equipped with removable screw connectors, making the task of replacing a controller much simpler.
- The controller wiring is designed in groups of 4 or 8 relays (depending on the model), with joined common conductor for each group, reducing the number of the wires needed in half.
This new controller series is extremely compact. The size of the 64-relay controller is the same size as present 32 relay controllers, thanks to the well-organized wiring and heat treatment.
The controllers in this series are designed to manage low voltage devices, which are usually 12-30 VDC, and high voltage devices, which are usually 90-277 VAC. All the controllers in the series include internal means of protection to protect all the relays contacts. These means of protection contribute to the prevention of electromagnetic noise, while increasing the lifetime of these relay controllers magnificently.
The new USB/TCP industrial controller series are suitable for building control, machinery control, production floors management and control, light boards control etc.
All series components are compatible with the highest standards acceptable in the European Union and USA: CE, FCC, ROHS and are in stock for immediate delivery.
The software support for the series includes DOT.net DLL operation utility, general Terminal software and open source examples, for quick and easy integration into the customers applications.
This new series of controllers is joining a versatile line of feature reach, reliable and cutting edge products designed and developed by Intelligent-Appliance: Industrial Data Acquisition and Control, Communication, Peer to Peer, Digital and Analog I/O modules, USB Relay Board Controllers, RS-232 and Motion Control.
Featured Product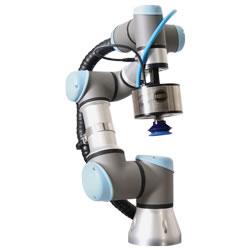 A variety of standard and custom options make the Bimba CRVT the perfect tool for your next collaborative robot project. This completely integrated plug-and-play solution is simple to operate and adds unparalleled flexibility to your collaborative robot.