Demand for Automated Vision Guided Vehicles Continues to Drive Seegrids Rapid Expansion
PITTSBURGH, Pa.--(BUSINESS WIRE)--Seegrid, the leader in vision guided autonomous vehicles for materials handling, announced today the completion of a successful 2016, in which Seegrid doubled orders based on increased demand from both existing and new customers. Innovative companies like Jaguar Land Rover, Whirlpool, Daimler, and one of the worlds largest online retailers all selected Seegrid vision guided vehicles (VGVs) to help transform their enterprises. Seegrids data-rich sensor technology continues to deliver unmatched flexibility and the lowest total cost of ownership to companies investing in automated material handling and Enterprise Intelligence solutions. Seegrids driverless vehicles are the most proven AGVs that do not require fixed infrastructure in the factory or warehouse. Seegrid ended the year with more than 500,000 driverless miles at customer facilities—equivalent to traveling to the moon and back—without a single safety incident.

A number of key factors contributed to the companys record year:
Seegrid delivered very attractive return on investment for its customers across North America, the United Kingdom, and Germany, with payback periods less than 12 months in many cases. Existing customers who are already achieving safety and economic benefits using VGVs placed substantial orders to increase their fleets, and new customers invested in automation based on the reliability and flexibility of Seegrid Vision technology.
Seegrid and The Raymond Corporation, a leading industrial truck manufacturer and part of the Toyota Material Handling Group, increased its VGV product line with the introduction of the Raymond Courier™ 3020 Tow Tractor Automated Lift Truck, joining the Raymond Courier™ 3010 Automated Pallet Truck. Equipped with Seegrid Vision technology, the Raymond Courier product line provides unmatched flexibility to Raymond customers. Raymonds iWAREHOUSE®, in conjunction with Seegrids Supervisor Enterprise Intelligence software provides the most robust tracking and reporting for mixed-technology fleets in the industry. Vision guided vehicles can be purchased either through Raymonds dealer network or directly from Seegrid.
In 2016, Seegrid enhanced Seegrids Supervisor software with Subway Platform, providing estimated time of arrival (ETA) projections. Developed strategically with Whirlpool Corporation, Subway Platform increases predictability and manages human-robot collaboration. Management can track automated operations at a glance and assembly operators know exactly when their goods will arrive.
"Our customers arent just looking for advanced robotics systems to meet their immediate logistics needs, but a platform and vision to help transform their entire business. Seegrids success in 2016 can be attributed, in large part, to our ability to support forward-looking Enterprise Intelligence initiatives," said Jim Rock, Seegrids CEO. "Our patented 3D Vision technology is aligned with the global movement toward Industry 4.0. For those enterprises aiming to develop a more intelligent, efficient, and seamless factory or warehouse, our autonomous vehicles are the catalyst needed to improve productivity, safety, and reliability."
About Seegrid
Seegrid, the pioneer and leader in three-dimensional vision navigation, provides unique and revolutionary automation technology for materials handling. Engineered with state-of-the-art Seegrid Vision, industrial trucks are transformed into the next generation of automated guided vehicles (AGVs): vision guided vehicles (VGVs). VGVs navigate without wires, lasers, magnets or tape, and they deliver unmatched flexibility. Designed for simplicity and reliability, the Seegrid flexible automation solution is available in a line of pallet trucks and tow tractors.
Experience the maximum benefits of VGVs with Seegrid Supervisor to manage, monitor, and control a fleet of vehicles within the context of your operation. Generating economic advantages and operational efficiencies, VGVs optimize workflow processes, increase productivity and throughput, and reduce labor and operating costs, all while improving workplace safety, reducing equipment and product damage, and delivering a rapid return on investment. www.seegrid.com
Featured Product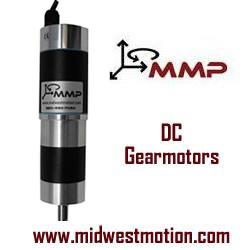 Midwest Motion Products, Inc. (MMP), is a well-established, healthy, & growing Family Owned Business, founded in 2001. MMP specializes in cost-effective standard DC Gearmotors, Motors, Controls, and ancillary equipment. Known world-wide for our "Lightning Fast" delivery capabilities, you can have a Standard Planetary or Right Angled DC Gearmotor BUILT and SHIPPED, often on the very same day you call. Offering Brushed and Brushless designs, with winding voltages ranging from 12 VDC to 120 VDC, we can deliver your "Robust & Reliable" samples within HOURS, instead of weeks, or even months.