SANTA MONICA, Calif., Jan.19, 2017 /PRNewswire/-- UBM's Advanced Design and Manufacturing portfolio is thrilled to announce that award-winning television personality and renowned special effects (FX) master, Jamie Hyneman, will take the Keynote stage at its Anaheim, CA trade show, the nation's most comprehensive advanced manufacturing event. Utilizing top speakers and celebrated content, UBM has helped some of the leading suppliers in the nation connect with over 20,000 engineers and executives for more than 30 years at its shows. As a celebrated Hollywood FX creator and co-host of the series Mythbusters®, Jamie will have the privilege of hosting the 32nd annual Keynote on February 7th at 12:00pm local time.

UBM's Advanced Design and Manufacturing event takes place on February 7-9, 2017, at the Anaheim Convention Center in Anaheim, CA and features Medical Design & Manufacturing (MD&M) West, Automation Technology (ATX) West, Design & Manufacturing (D&M) West, Electronics West, PLASTEC West and West Pack.
"UBM is excited to share the news that Jamie Hyneman, a key Hollywood figure and an inspiration to many of our visitors, will serve as Keynote presenter at its 2017 Anaheim event," said Nina Brown, Vice President, Events, UBM Americas. "Jamie will start the year off strong for the Advanced Design and Manufacturing portfolio by bringing the fun, cool side of science into the spotlight through his years of on and off-camera experience."
Meet the Keynote: Jamie Hyneman
Originally from Indiana farm country, Jamie's affinity for all things adventure, engineering and problem-solving developed from an early age, getting his start at 14 with formal survival training in the wilderness of Wyoming. As Jamie's skill set grew, he became intrigued with FX and the diverse skills required to work in the field. Within two years of starting as a shop assistant in the New York City area, he had worked on several feature films and dozens of commercials. This led Jamie to San Francisco, CA to perfect his craft on several effects-intensive feature films. Over the course of his 25 year career, Jamie has had his hand in producing FX for more than 800 commercials, hundreds of prototypes and dozens of feature films that include Robocop, Arachnophobia and Naked Lunch, among others. During his time in the FX industry, Jamie also utilized his skillset to develop M5 Industries (M5), a versatile FX business that he has run for more than 15 years in conjunction with FX powerhouse and master maker, Adam Savage.
In 2002, Jamie teamed up with his M5 colleague, Adam to film a television pilot for Mythbusters. The first episode aired in January 2003 and has remained one of the Discovery Networks highest rated shows since. Over the 12 years that the series ran, Jamie and Adam have busted over 750 myths, traveled the country to speak, and appear on numerous television programs including The Late Show with David Letterman, Good Morning America, The Late Late Show with Craig Ferguson, and many more. Following the final episode of Mythbusters, aired in 2016, Jamie is continuing to share his passion for FX through his work in television, film, custom builds, research and development projects and speaking engagements such as UBM's 32nd annual Anaheim Keynote.
Jamie holds a degree in Russian from Indiana University, an honorary degree in engineering from the University of Maine and an honorary doctorate of engineering from Villanova University, where he has an ongoing collaborative relationship to develop new safety concepts for the U.S. Military. Prior to his work in FX, Jamie worked as a cook on a cattle ranch, as a pet-store owner, a building inspector, a Slavic Librarian at the United Nations in Geneva, Switzerland and owner of a Caribbean charter sailing business, among other endeavors.
Get Registered: Request your complimentary Expo Pass at anaheim.am.ubm.com/2017/index/registrations/MDM
Follow us on social: Facebook ǀ Twitter ǀ LinkedIn
About Advanced Manufacturing Expos & Conferences
UBM's Advanced Manufacturing portfolio is the leading B-to-B event producer, publisher, and digital media business for the world's $3 trillion advanced, technology-based manufacturing industry. Our print and electronic products deliver trusted information to the advanced manufacturing market and leverage our proprietary 1.3 million name database to connect suppliers with buyers and purchase influencers. We produce more than 50 events and conferences in a dozen countries, connecting manufacturing professionals from around the globe. The Advanced Manufacturing portfolio is organized by UBM Americas, a part of UBM plc (UBM.L), an Events First marketing and communication services business. For more information, visit www.ubmamericas.com.
About UBM Americas
UBM Americas, a part of UBM plc, is the largest business-to-business events and trade show organizer in the U.S. Through a range of aligned interactive physical and digital environments, UBM Americas increases business effectiveness for both customers and audiences by cultivating meaningful experiences, knowledge and connections. UBM Americas has offices spanning North and South America, and serves a variety of specialist industries with dedicated events and marketing services covering everything from fashion, tech and life sciences to advanced manufacturing, cruise shipping, specialty chemicals, powersports and automotive, concrete, hospitality, cargo transportation and more. For more information, visit: www.ubmamericas.com.
Featured Product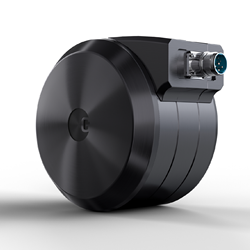 Welcome to the next generation of robotics and machinery. LiveDrive LDD is a unique direct drive motor that overcomes almost every limitation of servo geared solutions. A 50% reduction in length from typical geared motor is possible with Genesis direct drive motors. Choose to simplify machine designs and have a shorter footprint while having high performance, accuracy, and efficiency.