The global connected car market size is expected to reach $180 billion by 2022. The RE•WORK Machine Intelligence in Autonomous Vehicles Summit will showcase the opportunities of emerging trends in sensors, connected devices, virtual assistants, and vehicle-to-vehicle communications to create connected and cooperative cars.
Why Attend?

The Machine Intelligence in Autonomous Vehicles Summit is a unique opportunity to interact with business leaders, influential academics and rapidly advancing startups leading the connected car revolution. Learn from and connect with a global audience of 200+ leading technologists and scientists sharing best practices and insights to advance the interconnected car and create more sustainable transport. View the agenda here.
The Machine Intelligence Summit will be running alongside, meaning attendees can enjoy additional sessions and networking opportunities, allowing them to further expand their knowledge and ensure their organisation is up-to-date with the latest trends, advancements and impactful applications in the field of artificial intelligence. Additional sessions include Computer Vision, Image Recognition and Video Analysis. View that agenda here.
Confirmed attendees include: Intel, MIT, Ford Motor Company, IBM, Capital One, Hitachi, Flickr, Apple, Comcast Ventures, Climate Corporation and Amazon.
Speakers
With over 40 speakers it is a great chance to discover, first hand, the technology shaping the future of connected cars and the impact this technology will have on businesses and individuals alike.
We have a fantastic lineup of speakers confirmed, this includes:
> Nikhil George, Senior Manager Perception & Machine Learning at Volkswagen Electronics Research Lab
> Ioannis Petousis, Head of Data Science at Renovo Motors
> Sam Kherat, Senior Manufacturing Automation Team Leader at Caterpillar
> Luca Rigazio, Director of Engineering at Panasonic Silicon Valley Laboratory
> Teymur Sadikhov, Senior Vehicles Intelligence Engineer in Autonomous Driving at Mercedes-Benz R&D
Do you have an interesting topic for discussion, or know of someone who does? Let us know by suggesting a speaker here.
On-Demand Content
Cant attend the live events? We have a new and improved Video Hub platform where you can access the event content on-demand; including technical presentations, slides, panel discussions & expert interviews. Email hello(at)re-work(dot)co if youd like to be notified of the launch and introductory membership pricing.
Tickets & Registration
Early Bird tickets are available until 3 February 2017. For further information and to register at a discounted rate, click here.
About RE•WORK
RE•WORK is an all-female run events organising company that brings together breakthrough technology, cutting-edge science and entrepreneurship shaping the future of business and society. At each event, we showcase the opportunities of exponentially accelerating technology to positively disrupt industry and society. For more information, view the full line-up of events here.
Featured Product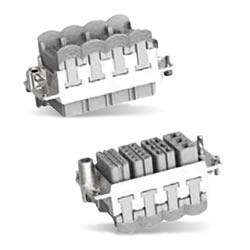 TE Connectivity's HDC Dynamic Module integrates the Dynamic series flexible signal and power solutions and the HDC Heavy Duty Connector series to form a solution of harsh environment connectors. TE's HDC Dynamic Module offers the top features of the two series. It uses the contact concept of the Dynamic series, with its proven performance in industrial uses and its cost effectiveness compared to legacy cutting contacts. The HDC connectors make the module a reliable solution for harsh environments. TE's HDC Dynamic Module supports 2A/32V to 40A/300V performance and 3 positions to 48 positions.