The Model 30MT is easy to install and provides high-performance rotary feedback over a wide range of operating conditions.
Sagle, Idaho: Encoder Products Company (EPC), worldwide manufacturers of encoders, has introduced the all new Model 30MT, a low-profile 30mm diameter magnetic encoder module. By means of advanced sensing and signal processing technology, the Model 30MT provides accurate incremental feedback, even in harsh operating conditions. With its threaded housing, the Model 30MT is simple to install. See the unboxing video for an overview.

Designed For Harsh Operating Conditions
Designed for tough industrial environments, the Model 30MT offers sealing up to IP69K and is virtually impervious to dust, dirt, and moisture. The Model 30MT features a chemically inert high-temperature nylon composite housing and non-contact magnetic sensing. The encoder is capable of operating in temperatures from -40º C to 120º C and features a threaded housing for easy installation. With a generous sensor-to-magnet air gap of 0.022", the Model 30MT holds ratings of 100g @ 11ms for shock and 20g @ 10 to 3000 Hz for vibration.
High Performance Magnetic Sensing
Even with its tough housing, the Model 30MT features advance signal processing circuitry which allows for a wide sensor-to-magnet air gap while still providing excellent waveform symmetry and repeatability, delivering signal accuracy exceeding that of many magnetic encoders.
Suitable for high-performance applications, the Model 30MT offers:
• A threaded housing for quick and easy installation
• Sealing up to IP69K
• Resolution up to 1024 CPR
• Maximum frequency of 350MHz
• Optional index channel with quadrature
• Four output types
• An 8-pin M12 connector
Applications
The Model 30MT is a versatile, cost-effective solution for non-contact, end-of-shaft rotary feedback in commercial, industrial and non-industrial applications. Some examples are: servo or stepper motor control; mobile equipment speed and steering sensing; timber processing machinery; studio and stage equipment; solar panel positioning; vending machines; rotary valve positioning; punch presses; and robotics.
About Encoder Products Company
Encoder Products Company (EPC) is a global leader in the design and manufacture of rotary encoders. EPC's Accu-CoderTM brand of encoders are used by OEM and MRO customers in nearly every industry. A modern, vertically integrated 100,000 sq ft facility in Sagle, Idaho, serves as both Global and Americas Division headquarters. EPC products are available through a network of qualified industrial distributors and resellers. For additional information, contact Encoder Products Company, PO Box 249, Sagle, Idaho 83860, sales@encoder.com 800-366-5412 www.encoder.com
Featured Product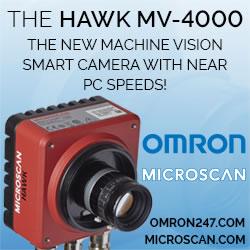 Awe-inspiring power and superior flexibility is sheathed within the contoured casing of the HAWK MV-4000. This smart camera builds upon the previous generation by quadrupling processing power and achieving real-time trigger response using an FPGA. Its state-of-the-art algorithms make it an excellent tool for any industry, whether the requirement be code reading, code verification, inspection, guidance, gauging or a combination of all four.