Gadget Freak of the Year and Rising Engineering Star Award winners also unveiled
SANTA MONICA, Calif., Jan. 25, 2017 /PRNewswire/ -- Design News today announced the 2017 Golden Mousetrap Lifetime Achievement Award winner, Cees Links, along with top honors for the Gadget Freak of the Year, Rising Engineering Star, and additional category finalists.

Winners for all 17 categories will be announced live at the Golden Mousetrap Award ceremony on February 7th at the Anaheim Convention Center in Anaheim, Calif. The Awards were created by Design News to acknowledge and recognize American people, companies, and technologies driving innovation in the industry. The Golden Mousetrap Awards will be held alongside UBM's three-day Advanced Manufacturing show at the Anaheim Convention Center that features a dynamic expo floor along with diverse content and conference offerings.
To learn more about UBM's Advanced Design and Manufacturing event in Anaheim, please visit: pacdesignshow.designnews.com
"Each year the Golden Mousetrap Awards honor design and manufacturing excellence," said Suzanne Deffree, Content Director and Editor-in-Chief of Design News. "We received a record number of entries for this year's awards, all from stellar industry leaders and individuals who have driven a renaissance of manufacturing in North America. This year's finalists have truly excelled at advancing engineering and innovation, and we're thrilled to celebrate them with these prestigious awards."
Golden Mousetrap Lifetime Achievement Award Winner 2017: Cees Links, General Manager of Qorvo's Low Power Business Unit
The prestigious Golden Mousetrap Lifetime Achievement Award, developed and presented by Design News, recognizes an individual who has devoted their work to the Advanced Design and Manufacturing industry, and has successfully pushed the industry forward through their personal contributions to innovation within their respective field.
The 2017 Lifetime Achievement Award winner, Cees Links, is known for being a pioneer of wireless data and the visionary who brought the worlds of mobile computing and continuous networking together. Links studied at the Twente University of Technology in the Netherlands where he earned a Master's Degree in Applied Mathematics and a Bachelor of Electrical Engineering. Known as one of the most important people in wireless computing, Links began his career at NCR computers where he managed the development and launch of the world's first wireless LAN product. Links continued his work in the wireless LAN area, where he secured a groundbreaking deal with Apple Computers in 1999 that sparked tremendous growth of the industry and culminated with wireless LAN as a standard notebook computer feature.
In 2004, Links founded GreenPeak Technologies, a fabless semiconductor company with a focus on wireless technology for ultra-low power sense and control networks for consumer electronics. GreenPeak was acquired by Qorvo in 2016 and, today, Links serves as General Manager of Qorvo's Low Power Business Unit.
Gadget Freak of the Year winner, Rising Engineering Star winner, and 2017 Category Finalists include:
Gadget Freak of the Year
David Prutchi with his gadget - Dolpi - A Low-Cost, RasPi-based Polarization Camera Duo
Rising Engineering Star
Lindsay "Linz" Craig, Founder, QuestBotics Inc.
Automation & Control: Sensors, Vision Systems, Feedback Devices, & Peripherals
ULTRA Puck (VLP-32A) - Velodyne LiDAR
CYALKIT-E02 Solar-Powered BLE Sensor Beacon Reference Design Kit - Cypress Semiconductor Corporation
MAXREFDES82# Smart Force Sensor Reference Design - Maxim Integrated
PGA411-Q1 resolver-to-digital converter with integrated exciter amplifier and power supply - Texas Instruments Inc.
PZ30 Non-Contact Rotary Encoder - Joral LLC
xtremeDB - Murrelektronik, Inc.
Automation & Control: Controllers
Kollmorgen Programmable Controller Multi-axis Master (PCMM) - Kollmorgen
IndraControl XM 21/22 - Bosch Rexroth Corporation
Bedrock universal control system - Bedrock Automation
EPOS4 module 50/15 - Maxon Precision Motors Inc.
Automation & Control: Drives
Omron 1S Servo Drive & Motor - Omron Automation
FAULHABER 1024 SR Series DC Motor - MICROMO
G214 Microstep Drive - Geckodrive, Inc.
EFC3610/5610 VFD - Bosch Rexroth Corporation
EZ-QUAD-SERVO - ALLMOTION INC
ACE DCH Series Actuator Control - American Control Electronics (ACE)
Automation & Control: Fluid Power Technologies
No Drip External Mix Atomizing Spray Nozzles - EXAIR Corporation
Automation & Control: Industrial Network Technologies (e.g. I/O, Ethernet, Wireless)
microSERV™ 4TB Data Storage Workstation - CONTEC DTx Inc.
SimpleLink™ dual-band CC1350 wireless MCU - Texas Instruments
Field Logic Controllers powered by ARGEE - Turck Inc.
Marvell Alaska® 88E1510P/1512P/1510Q GbE Transceivers - Marvell Technology Group
Pocket IO™ PLC Development Platform - Maxim Integrated
Automation & Control: Motors and Mechanical Motion Devices
StepSERVO Integrated Motors - Applied Motion Products
NEXEN CRD DD - NEXEN GROUP
Flexion N-Series 6 - Axis Robots- Epson Robots
Electrak HD - Thomson Industries Inc.
ETM Direct Drive Motor - Electric Torque Machines (ETM)
Z-417 - Lin Engineering
Design Tools: Hardware & Software: Analysis & Calculation Software
DesignDRIVE with Position Manager - Texas Instruments
MSC Apex Fossa - MSC Software Corporation
DZynSource Mold Engineering Software - DZynSource LLC
SYSPRO Enterprise Resource Planning Software - SYSPRO
Design Tools: Hardware & Software: CAD/PDM/PLM Software
Omnify Empower PLM 6.0 - Omnify Software
Sequence Enterprise Work Instruction Software - FFD Inc.
Factory in a Tool - nSCrypt Inc.
Arena PLM - Arena Solutions
Electronics & Test: Analog/Power Management/Control
ISL78365 Laser Diode Driver for Automotive Head-Up Displays - Intersil Corporation
LSP10GIHP Series - Thermally Protected Surge Protective Device - Littelfuse Inc.
PSoC Analog Coprocessor - Cypress Semiconductor Corp.
IHLD Low Profile, High Current Dual Inductors - Vishay Intertechnology
ISL9237 USB-C Buck-Boost Battery Charger - Intersil Corporation
Electronics & Test: Components, Hardware & Interconnects
TouchView TDDI Technology - Synaptics
Rewireable C13 IEC Lock + Connector - Scolmore International
nRF52832 Multiprotocol Bluetooth low energy /ANT/2.4GHz RF SoC water level chip scale package - Nordic Semiconductor
MicReD Power Tester 600A - Mentor Graphics Corporation
Minifast HD cordset - Turck Inc.
RL78/I1C MCU - Renesas Electronics America Inc.
Electronics & Test: Embedded Computing/Processing
MSP430 ™ FRAM microcontrollers (MCUs) with CapTIvate™ technology - Texas Instruments
AWS-ECC508 - Microchip Technology Inc.
R-Car H3 SoC - Renesas Electronics America
MAXREFDES143# DeepCover Embedded Security Reference Design - Maxim Integrated
Electronics & Test: Test & Measurement
Veloce DFT App - Mentor Graphics Corporation
High Speed Serial Link Training Analysis Tool - Tektronix
AEGIS Shaft Voltage Tester Digital Oscilloscope - Electro Static Technology
Keysight N9041B UXA X-Series Signal Analyzer - Keysight Technologies Inc.
Materials & Assembly: 3D-Printing & Rapid Prototyping, Materials, Tools & Services
Post-operative Cast - Summit ID
Blue Dot Lasers - Blue Dot Laser System
Hail Impact Tester, Ice Mold, and Accredited Test Services - WESTPAK Inc.
Materials & Assembly: Adhesives
Light-fixable DELO DUALBOND VE 72768 for high-reliability appliances - DELO Industrial Adhesives
BETAFORCE 2817 structural adhesive for composite and mixed material bonding - Dow Automotive Systems
Materials & Assembly: Engineering Plastics & Composites
Densified SOLIMIDE - Boyd Corporation
2 ½ inch and 3 inch AquaPEX® and ProPEX Fittings - Uponor
Materials & Assembly: Fastening, Joining & Assembly Components
Vortex Connection - Controlled Dynamics Inc.
LQR® Lock and Quick Release System - Bal Seal Engineering
Laser Bonding - Primoceler Inc.
Materials & Assembly: Metals & Alloys
Cadence™ Flex manufacturing solution with RAAMS - Vapor Technologies
Belvedere Lateral Plating System - NeuroStructures Inc.
To learn more about the Golden Mousetrap Awards, please visit: goldenmousetraps.designnews.com
Follow the Golden Mousetrap Awards on Social Media with Official Hashtag: #GMAT17
About Advanced Manufacturing Expos & Conferences
UBM's Advanced Manufacturing portfolio is the leading B-to-B event producer, publisher, and digital media business for the world's $3 trillion advanced, technology-based manufacturing industry. Our print and electronic products deliver trusted information to the advanced manufacturing market and leverage our proprietary 1.3 million name database to connect suppliers with buyers and purchase influencers. We produce more than 50 events and conferences in a dozen countries, connecting manufacturing professionals from around the globe. The Advanced Manufacturing portfolio is organized by UBM Americas, a part of UBM plc (UBM.L), an Events First marketing and communication services business. For more information, visit ubmamericas.com.
About UBM Americas
UBM Americas, a part of UBM plc, is the largest business-to-business events and trade show organizer in the U.S. Through a range of aligned interactive physical and digital environments, UBM Americas increases business effectiveness for both customers and audiences by cultivating meaningful experiences, knowledge and connections. UBM Americas has offices spanning North and South America, and serves a variety of specialist industries with dedicated events and marketing services covering everything from fashion, tech and life sciences to advanced manufacturing, cruise shipping, specialty chemicals, powersports and automotive, concrete, hospitality, cargo transportation and more. For more information, visit: www.ubmamericas.com.
Featured Product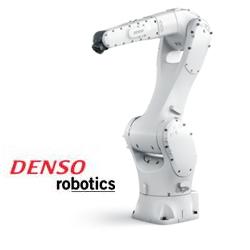 The new VMB series represent some of the newest members to our 6-axis family of robots. These high-performance, versatile units offer a longer arm reach and a higher load capacity than traditional models which make VMB an excellent solution for palletizing, packaging, and material handling. New features include greater air piping, valve and signal line options, as well as new programming options with state-of-the-art functions using our new WINCAPS Plus software. VMB offers an IP67 protection grade along with meeting ISO Class 5, which makes them suitable for electric parts, food manufacturing processes, and pharmaceutical and medical devices. With the addition of the new VMB large robots, all manufacturing processes can now be automated by DENSO Robotics.