Thought leaders from government, industry and academia provide insight and intelligence on robotics and drones in the enterprise
ARLINGTON, Va., Jan. 27, 2017 /PRNewswire/ -- The Association for Unmanned Vehicle Systems International (AUVSI) today announced the conference program for the upcoming AUVSI XPONENTIAL 2017, the largest trade show for the unmanned systems and robotics industry. As the regulatory environment has evolved to open up new opportunities, speakers from government, industry and academia will participate in more than 200 presentations and panel discussions addressing the potential for drones, robotics, and other unmanned systems. XPONENTIAL 2017 will take place at the Kay Bailey Hutchinson Convention Center in Dallas from May 8 to 11, 2017.

Among the program's participants are thought leaders from government agencies, such as the U.S. Department of Defense, FAA, NASA, NOAA; and commercial organizations, including AT&T, AirMap, Barrick Gold, General Electric, Great Southwestern Construction, Intel, Johns Hopkins University Applied Physics Laboratory, Liquid Robotics, Northrop Grumman and Raytheon.
The industry opportunity has never been greater. For instance, the FAA expects that more than 600,000 unmanned aircraft systems could be flying for commercial purposes in 2017.
Speakers at XPONENTIAL 2017 will provide insight and actionable intelligence on the role of unmanned systems in a range of industries, including agriculture, construction, defense, energy, mapping, wireless, oil and gas, retail, and transportation, among others.
"Unmanned systems are transforming the enterprise," said Brian Wynne, AUVSI president and CEO. "From energy and agriculture to broadcasting and security, unmanned systems, robotic and drone technology is enabling applications that were previously impossible. The educational program at XPONENTIAL is designed not only to showcase these advancements, but to provide attendees with real-world examples, best practices and smart strategies to leverage the power of unmanned systems in their own organizations."
The conference program is divided into three tracks:
Policy: Airspace, local, state and federal government cooperation, international trade affecting unmanned systems, and regulation of unmanned maritime systems.
Technology: Defense technology innovation, drone delivery technology, protecting intellectual property, software development powering unmanned systems and automated vehicle technology development.
Business Solutions: Remote sensing, drones in the wireless industry, mapping and imaging, maritime applications for oil and gas, aviation risk management, and managing and protecting data.
The XPONENTIAL 2017 educational program will also include extensive technical sessions supported by white papers and a presentation series on government and defense opportunities for industry engagement. In the exhibit hall, education programs are planned for the Starting Point Theater, Solutions Theater and Poster Sessions area. There will also be special sessions, such as Women and Diversity in Robotics, and the Startup Showdown live pitch event, featuring new companies that are developing the future of innovation in the industry.
More than 7,000 industry leaders and professionals from more than 55 countries are expected to attend XPONENTIAL 2017. The exhibit hall will showcase more than 650 cutting-edge companies from around the world, representing more than 20 industries.
Registration for XPONENTIAL 2017 has opened. For more information, visit http://bit.ly/2jgeaLQ.
About AUVSI
The Association for Unmanned Vehicle Systems International (AUVSI) — the world's largest nonprofit organization dedicated to the advancement of unmanned systems and robotics — represents more than 7,500 members from more than 60 countries involved in the fields of government, industry and academia. AUVSI members work in the defense, civil and commercial markets.
Featured Product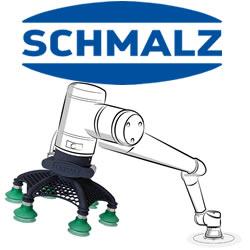 In order to interact with their environment and perform the tasks, lightweight robots, like all industrial robots, depend on tools - and in many cases these are vacuum grippers. These form the interface to the workpiece and are therefore a decisive part of the overall system. With their help, the robots can pick up, move, position, process, sort, stack and deposit a wide variety of goods and components. Vacuum gripping systems allow particularly gentle handling of workpieces, a compact and space-saving system design and gripping from above. Precisely because the object does not have to be gripped, the vacuum suction cupenables gapless positioning next to each other.