Awards Ceremony held at UBM's Advanced Design and Manufacturing event in Anaheim, CA
SANTA MONICA, Calif., Feb. 7, 2017 /PRNewswire/ -- Design News is pleased announce the winners of the 16th annual Golden Mousetrap Awards. The Golden Mousetrap Awards were created to acknowledge and recognize American people, companies, and technologies driving innovation in the industry. The winners were officially recognized at the 2017 Golden Mousetrap Awards Ceremony on Tuesday, February 7th. The evening's festivities were a celebration of manufacturing and innovation in North America by honoring the companies and individuals who impact the industry through their hard work and ground-breaking ideas. The Golden Mousetraps Awards ceremony is held alongside UBM's three-day Advanced Design and Manufacturing event at the Anaheim Convention Center. To learn more about UBM's Advanced Design and Manufacturing show in Anaheim, please visit: pacdesignshow.designnews.com

Sponsors of the 2017 Golden Mousetrap Awards include Design News, Pacific Design & Manufacturing, and Allied Electronics.
"We are honored to recognize those companies and individuals who have demonstrated a drive for excellence in their respective fields," said Suzanne Deffree, Content Director and Editor-in-Chief of Design News. "The future of engineering and manufacturing is truly innovative, as the companies and individuals celebrated at the 2017 Golden Mousetrap Awards have shown the leadership and direction needed to push the industry to new heights."
The 2017 Golden Mousetrap Award winners for each category are as follows:
Lifetime Achievement Winner
Cees Links
Rising Engineering Star
Lindsay Craig
Gadget Freak of the Year
David Prutchi, Ph.D.
Automation & Motion Control: Controllers
Bedrock universal control system - Bedrock Automation
Automation & Motion Control: Drives
Omron 1S Servo Drive & Motor - Omron Automation
Automation & Motion Control: Fluid Power Technologies
No Drip External Mix Atomizing Spray Nozzles - EXAIR Corporation
Automation & Motion Control: Industrial Network Technologies (e.g. I/O, Ethernet, Wireless)
SimpleLink™ Dual-Band CC1350 Wireless MCU - Texas Instruments
Automation & Motion Control: Motors and Mechanical Motion Devices
Flexion N-Series 6-Axis Robots - Epson Robots
Automation & Motion Control: Sensors, Vision Systems, Feedback Devices, & Peripherals
ULTRA Puck (VLP-32A) - Velodyne LiDAR
Design Tools: Hardware & Software: Analysis & Calculation Software
MSC Apex Fossa - MSC Software Corporation
Design Tools: Hardware & Software: CAD/PDM/PLM Software
Arena PLM - Arena Solutions
Electronics & Test: Analog/Power Management/Control
ISL78365 Laser Diode Driver for Automotive Head-Up Displays - Intersil Corporation
Electronics & Test: Components, Hardware & Interconnects
TouchView™ TDDI Technology - Synaptics
Electronics & Test: Embedded Computing/Processing
R-Car H3 SoC - Renesas Electronics America
Electronics & Test: Test & Measurement
AEGIS Shaft Voltage Tester Digital Oscilloscope - Electro Static Technology
Materials & Assembly: Adhesives
BETAFORCE™ 2817 structural adhesive - Dow Automotive Systems
Materials & Assembly: Engineering Plastics & Composites
Densified SOLIMIDE - Boyd Corporation
Materials & Assembly: Fastening, Joining & Assembly Components
LQR® Lock and Quick Release System - Bal Seal Engineering
Materials & Assembly: Metals & Alloys
Belvedere Lateral Plating System - NeuroStructures Inc.
Materials & Assembly: 3D-Printing & Rapid Prototyping, Materials, Tools & Services
Blue Dot Lasers - Blue Dot Laser Systems
To learn more about the Golden Mousetrap Awards, please visit: goldenmousetraps.designnews.com
Follow the Golden Mousetrap Awards on Social Media with Official Hashtag: #GMTA17
About Advanced Manufacturing Expos & Conferences
UBM's Advanced Manufacturing portfolio is the leading B-to-B event producer, publisher, and digital media business for the world's $3 trillion advanced, technology-based manufacturing industry. Our print and electronic products deliver trusted information to the advanced manufacturing market and leverage our proprietary 1.3 million name database to connect suppliers with buyers and purchase influencers. We produce more than 50 events and conferences in a dozen countries, connecting manufacturing professionals from around the globe. The Advanced Manufacturing portfolio is organized by UBM Americas, a part of UBM plc (UBM.L), an Events First marketing and communication services business. For more information, visit ubmamericas.com.
About UBM Americas
UBM Americas, a part of UBM plc, is the largest business-to-business events and trade show organizer in the U.S. Through a range of aligned interactive physical and digital environments, UBM Americas increases business effectiveness for both customers and audiences by cultivating meaningful experiences, knowledge and connections. UBM Americas has offices spanning North and South America, and serves a variety of specialist industries with dedicated events and marketing services covering everything from fashion, tech and life sciences to advanced manufacturing, cruise shipping, specialty chemicals, powersports and automotive, concrete, hospitality, cargo transportation and more. For more information, visit: www.ubmamericas.com.
Featured Product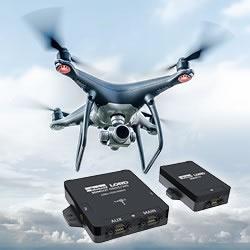 The new complete inertial navigation solution comes with GNSS/INS 3DMGQ7 sensor, 3DMRTK correction modem and real time SensorCloud RTK correction network. The sensor comes with Dual antenna GNSS, tactical grade IMU with centimeter-level accuracy with RTK. Low profile and light weight at 78 grams, this sensor is The sensor is optimized for size and weight in Unmanned Ground Vehicles, mobile robots and autonomous vehicles. The network interface 3DMRTK modem is seamlessly integrated into the 3DMGQ7 sensor supports industry-standard NMEA and RTCM 3.1 protocols. The network RTK support comes with cellular data plan. The SensorCloud RTK is a cloud-based RTK correction system with private encrypted data stream. Check out our G Series and C Series OEM products.