Geospatial analysis leader to showcase use of advanced topo-bathy LiDAR and UAVs for coast and wetland mapping.
Quantum Spatial, Inc., the nations largest independent geospatial data firm, will showcase its leadership in use of next-generation sensors to support wide-area programs, such as the U.S. Geological Survey (USGS) 3D Elevation Program (3DEP), topographic-bathymetric (topo-bathy) LiDAR and unmanned aerial vehicles (UAVs) at the International LiDAR Mapping Forum (ILMF) next week. The companys geospatial professionals will take part in numerous presentations and panel discussions, and will be available for focused discussions and demonstrations in the Quantum Spatial booth.

Taking place February 13-15, 2017, at the Hyatt Regency Denver, ILMF is an annual technical conference and exhibition of the latest airborne, terrestrial and water penetrating LiDAR. Experts from all over the world gather at this conference to discuss emerging remote sensing and data collection tools and technologies used for asset management, civil infrastructure, coastal zone mapping, emergency services and disaster response, land and natural resource management, and urban modeling.
Quantum Spatials Russell Faux, senior vice president will deliver these presentations:
Performance of the Riegl VQ-880-G LiDAR Sensor in Mapping Coastal Near-Shore Bathymetry - February 15, 9:10 a.m. - Faux will explain how topographic-bathymetric (topo-bathy) LiDAR continues to develop as a unique tool for mapping near-shore and intertidal zones. He will highlight a case study of how Quantum Spatial is deploying the Riegl VQ-880-G - a next-generation topo-bathy LiDAR sensor - to map more than 200 miles of South Carolina coastline for National Oceanic and Atmospheric Administrations (NOAA) National Geodetic Survey. Faux also will share results of the sensors performance in capturing detailed elevation data in coastal near-shore and estuarine environments, as well as lessons learned from deploying the Riegl VQ-880-G for this and similar mapping projects.
Utilizing UAV-based LiDAR and Imagery Technology for Coastal and Wetland Applications - February 15, 3:10 p.m. - Faux will join with Matthew Coleman from PrecisionHawk to discuss how Quantum Spatial acquires, processes and delivers high-resolution aerial LiDAR data and multispectral imagery from unmanned aerial systems (UAS) for the NOAA Office for Coastal Management (OCM). They will demonstrate the benefits and difficulties of working with unmanned aerial vehicle (UAV)-based LiDAR for mapping-grade projects. The presentation will address data acquisition using PrecisionHawks Lancaster 5 fixed-wing aircraft and In-Flight software for flight planning and management during acquisition, along with automated and semi-automated data processing.
Faux also will participate in panel discussions:
Making Sensor and System Selections for Bathymetry LiDAR and Topobathy - February 15, 9:30 a.m. - Faux will join speakers from the Joint Airborne LiDAR Bathymetry Technical Center of Expertise and Dewberry Consultants LLC on this panel, where he will provide his insights into this rapidly growing technology to provide critical information for coastal and riverine monitoring and mapping.
UAVs - February 15, 3:30 p.m. - Faux, with speakers from Aerial Services, Cognizant and PrecisionHawk, will provide further insight into the practical applications of UAS technologies (e.g., UAS-based LiDAR) with respect to traditional mapping requirements and project considerations.
In the exhibit hall, Quantum Spatial (booth 46) will have representatives from its data acquisition, operations and environmental practice teams available to provide demonstrations and discuss attendees project-specific requirements.
For more information, or to set up a demonstration at the Quantum Spatial booth, email Mike Shillenn at federal(at)quantumspatial.com or call (859) 277-8700.
About Quantum Spatial, Inc.
Quantum Spatial, Inc., (QSI) the nations largest independent geospatial data firm, provides geographic insights to the largest government and corporate organizations that need geospatial intelligence to mitigate risk, plan for growth, better manage resources and advance scientific understanding. A pioneer in advanced mapping technology, QSIs end-to-end solutions and services deliver the industrys highest data quality and accuracy, while leveraging the widest array of technologies for analyzing all types of terrains. Customers use the companys acquisition, processing, analytics and visualization solutions in a range of technical and scientific disciplines - from geology and biology, to hydrology, forestry and civil engineering. Utilities, oil and gas producers, engineering and construction firms, as well as the military and major government agencies, are QSI customers. QSI has multiple offices around the country. For more information visit quantumspatial.com, join us on LinkedIn or follow us on Twitter @QuantumSpatial.
Featured Product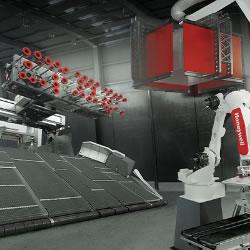 Challenges on the loading dock are characteristic of greater pressures from the rise of e-commerce. Loading and unloading freight from trailers, trucks and shipping containers are arduous, repetitive tasks plagued by high turnover. Even with regularly available staff, manually unloading freight and the constant lifting and twisting results in fatigue and inconsistent, declining productivity. Robotics capable of fully automating unloading tasks bring a new paradigm to the dock. High performance and flexibility push unloading from a labor-heavy, manual chore to an automated, refined process. High-performing DC workers can take more desirable positions, with relief from unpleasant work conditions. Management gets to replace uncertainty and staffing challenges with a reliable, automated process, with data to fuel continuous improvement.