Leading Aviation Insurance Provider Offers Easy Access to Drone Insurance
PARSIPPANY, N.J., Feb. 15, 2017 /PRNewswire/ -- Easy access to comprehensive, competitive drone insurance is critical today due to the rapid rise in commercial drone use. Global Aerospace, a leading international aviation and aerospace insurance provider, is embracing the digital revolution by utilizing portal technology to provide streamlined access to insurance products and services that put the customer first.

The UAS online portal is designed to provide drone owners and operators the ability to quickly and efficiently purchase an annual policy online and pay securely via credit card. The portal is available via affiliated producers.
"For a number of years, Global Aerospace has been developing portal technology to simplify access to our insurance products and help our customers transact business in a straightforward and efficient manner. Global has been at the forefront of insuring the UAS industry and the development of this portal is another example of our leadership and dedication to providing innovative tools to this rapidly expanding market," said Chris Proudlove, Global Aerospace's Senior Vice President and Manager of UAS Risks.
Individuals interested in learning more about the UAS portal and insurance products can contact Chris Proudlove at (973) 490-8525, cproudlove@global-aero.com or Bryant Dunn at (973) 490-8606, bdunn@global-aero.com for more information.
Global Aerospace is a leading provider of aerospace insurance with a worldwide portfolio of clients who are engaged in every aspect of the aviation and space industries. Headquartered in London, we have offices in Canada, Cologne, Paris, Zurich and throughout the United States. Across the world we employ over 300 people. With experience dating back to the 1920s, the company's underwriting is backed by a pool of high quality insurance companies representing some of the most respected names in the business.
For additional information about Global Aerospace, please visit www.global-aero.com. To learn more about the company's SM4 safety program, please visit sm4.global-aero.com.
Featured Product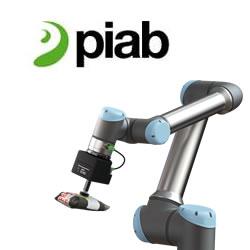 Piab's Kenos KCS gripper enables a collaborative robot to handle just about anything at any time. Combining Piab's proprietary air-driven COAX vacuum technology with an easily replaceable technical foam that molds itself around any surface or shape, the gripper can be used to safely grip, lift and handle any object. Standard interface (ISO) adapters enable the whole unit to be attached to any cobot type on the market with a body made in a lightweight 3D printed material. Approved by Universal Robots as a UR+ end effector.