Startup Showdown semi-finalists selected, winner announced on May 10 in Dallas
ARLINGTON, Va., Feb. 15, 2017 /PRNewswire/ -- The Association for Unmanned Vehicle Systems International (AUVSI) announced the semi-finalists for its second annual Startup Showdown. The winner will be selected and announced at AUVSI XPONENTIAL 2017, the largest trade show for the unmanned systems and robotics industry, taking place at the Kay Bailey Hutchinson Convention Center in Dallas from May 8 to 11, 2017.

Sixty-five startups submitted their products and services for consideration. The companies represent diverse applications of unmanned systems technology, such as hybrid power sources, advanced imagery payloads and autonomous wireless power.
The 16 semi-finalists, as determined by an expert panel of judges from top investment firms, represent six countries and a range of industries. They are:
Advanced Aircraft Company
DRONAMICS
Gamma2Robotics Inc.
Inertial Sense LLC
Iridium Dynamics Pty Ltd
Kinaptic, LLC
Planck Aerosystems
Quaternium Technologies
Robolink
Ross Robotics
Skylift Global, Inc.
TeleRetail
uAvionix Corporation
Viooa Imaging Technology Inc.
WiBotic, Inc
Z-senz, LLC
Details on each semi-finalist and their offerings are available on the XPONENTIAL 2017 website.
"Advances in technology and regulatory changes have ushered in an era of seemingly limitless opportunity for unmanned systems," said Brian Wynne, AUVSI president and CEO. "More than 65 companies from six different countries submitted some of the most interesting and innovative applications for our industry, highlighting the future of innovation across the unmanned systems and robotics ecosystem."
The 16 semi-finalists will compete in a closed, knockout round at XPONENTIAL, with three finalists emerging to compete in the live Startup Showdown. Each finalist will have six minutes to make their final presentation, followed by an additional six minutes of Q&A. The judges will announce the Startup Showdown winner at the conclusion of this session.
All XPONENTIAL attendees are invited to watch the competition, which will take place on Wednesday, May 10 from 4:30 p.m. to 5:30 p.m. CDT in Ballroom C1/C2. Videos submitted by each semi-finalist, capturing their company's products, market position and differentiators, will be displayed throughout the week at XPONENTIAL.
Seven thousand industry leaders and professionals from over 55 countries are expected to attend XPONENTIAL 2017. The exhibit hall will showcase 650 cutting-edge companies from around the world, representing more than 20 industries.
Registration for XPONENTIAL 2017 has opened. For more information, visit http://bit.ly/2jgeaLQ
About AUVSI
The Association for Unmanned Vehicle Systems International (AUVSI) — the world's largest nonprofit organization dedicated to the advancement of unmanned systems and robotics — represents more than 7,500 members from more than 60 countries involved in the fields of government, industry and academia. AUVSI members work in the defense, civil and commercial markets.
Featured Product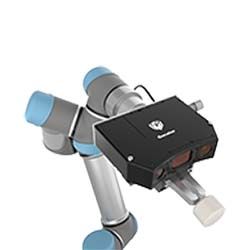 Easily integrate Gocator® 3D line profile and snapshot sensors with a variety of industrial robots to deliver high-performance 3D results in vision guidance, flexible inspection, material dispensing, and automated assembly with smart pick-and-place. Adding 3D vision to a robot turns repetitive, fixed motion into smart movement that can unlock greater value for your automation investment.