Business Industrial Network, a leading provider of industrial training, announced the release of the new OPC Training for SCADA & DCS Certificate Course software. This course software gives practical application to PLC, PAC, DCS and SCADA systems knowledge plus it directs hands-on experience with free OPC server software, PiBridge and OPC DA (Data Acquisition) client software is also included in the training course bundle.
Business Industrial Network, a leading provider of industrial training, announced the release of the new OPC Training for SCADA & DCS Certificate Course software. ( http://bin95.com/opc-scada-training.htm ) This OPC certificate course software takes the approach to give the professional just what they need to know when working with PAC & PLC networks, DCS, SCADA and IIoT (Industry 4.0).

OPC stands for "OLE for Process Control." OPC has become a real workhorse replacing custom HMI (Human Machine Interface) drivers and connecting controls & automaton to the business enterprise. There are currently seven standards specifications completed or in development by OPC Foundation.
Educational Note: OLE stands for "Object Linking and Embedding." Imagine a HMI or SCADA screen, it is made up many objects on a computer screen. (SCADA is an HMI software with Data Acquisition and Historian components added.) Objects can be picture of pump, gauges, labels, etc. The whole screen with all the objects is the COM(Component Object Model), on your phone DCOM (Distributed COM).
The screen objects are link to or embedded with each other via Microsoft's OLE standard, and linked to other software and devices via the OPC standard. Some applications may involve XML too.
Some of the professionals who benefit most from this OPC training course are Process Control Engineers, Maintenance Professionals, Analyzer Technicians, DCS technicians, SCADA engineers, Instrument Engineers, Industrial Engineers, and Application Engineers. All Industrial IoT (IIoT) platforms should support OPC Classic and OPC UA, along with common industrial fieldbus like Modbus, Profibus, HART, DeviceNet, and so on.
This Pi OPC Master training bundle also shows user how to connect two independent OPC servers together easily with included special software. The course covers how to pull/push data to and from PLC SCADA system to host computers in the most safe and reliable way. It starts with comprehensive theory chapters, followed by over 150 question review tests and then ends with hands-on lab and practical application using real industrial grade software consisting of OPC server and OPC client. Students install the software on their own computer, configure the free OPC server and OPC client as if they were in a real plant and then witness actual real-time data communications in front of their eyes on their own computer.
###
Featured Product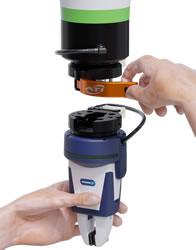 ATI Industrial Automation's MC-10 Manual Tool Changer provides a cost-effective solution for quickly changing tools by hand. Its compact yet robust design is optimized for collaborative robot applications. The ergonomic twist-collar locking mechanism ensures a secure attachment of the tool and easy manual operation with tactile feedback. This Manual Tool Changer can carry payloads of up to 22 lbs and includes multiple fail-safe features that resist vibration and prevent loosening. The MC-10 Manual Tool Changer has integrated air pass-through connections and options to connect electrical utilities if needed. ATI will feature the new MC-10 along with a variety of other robotic demonstrations and product displays at this year's IMTS show in Chicago (Booth #236417).