Go Unmanned adds DroneDeploy to its commercial mapping software suite to provide more diverse options for data processing.
Raleigh-based UAV company, Go Unmanned, adds DroneDeploy to its commercial mapping software solutions. DroneDeploy provides an easy to use cloud-based option for aerial mapping. While other mapping software requires a lot of training and support, DroneDeploy offers a user-friendly interface to process data for users.

Whether using a UAV to identify crop-infestations or build 3-D models, mapping software like DroneDeploy helps users interpret data taken from an aerial survey. With the addition of DroneDeploy, Go Unmanned can offer mapping software to any size business and budget.
"DroneDeploy is a very simple mission planning and data processing software. Flight data is uploaded to the cloud so that elevation, 3D, and false-NDVI maps can be generated. The process is seamless." says Asante Amaning, Go Unmanned technician.
Go Unmanned focuses on providing across-the-board solutions for UAV customers. As UAVs and other drone technologies expand into different industries from agriculture to construction, Go Unmanned offers specialized hardware and software packages with training, support, repair, and service flights.
Featured Product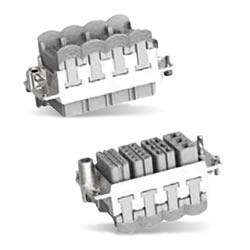 TE Connectivity's HDC Dynamic Module integrates the Dynamic series flexible signal and power solutions and the HDC Heavy Duty Connector series to form a solution of harsh environment connectors. TE's HDC Dynamic Module offers the top features of the two series. It uses the contact concept of the Dynamic series, with its proven performance in industrial uses and its cost effectiveness compared to legacy cutting contacts. The HDC connectors make the module a reliable solution for harsh environments. TE's HDC Dynamic Module supports 2A/32V to 40A/300V performance and 3 positions to 48 positions.