Go Unmanned adds DroneDeploy to its commercial mapping software suite to provide more diverse options for data processing.
Raleigh-based UAV company, Go Unmanned, adds DroneDeploy to its commercial mapping software solutions. DroneDeploy provides an easy to use cloud-based option for aerial mapping. While other mapping software requires a lot of training and support, DroneDeploy offers a user-friendly interface to process data for users.

Whether using a UAV to identify crop-infestations or build 3-D models, mapping software like DroneDeploy helps users interpret data taken from an aerial survey. With the addition of DroneDeploy, Go Unmanned can offer mapping software to any size business and budget.
"DroneDeploy is a very simple mission planning and data processing software. Flight data is uploaded to the cloud so that elevation, 3D, and false-NDVI maps can be generated. The process is seamless." says Asante Amaning, Go Unmanned technician.
Go Unmanned focuses on providing across-the-board solutions for UAV customers. As UAVs and other drone technologies expand into different industries from agriculture to construction, Go Unmanned offers specialized hardware and software packages with training, support, repair, and service flights.
Featured Product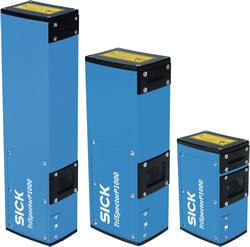 Take your quality inspections to the next level with tailor-made 3D solutions from SICK, Inc. The TriSpector1000 is a stand-alone, configurable 3D vision sensor that reliably inspects objects regardless of variations in color, height, shape, or position. It is suited for solving quality control issues and can be used for volume & thickness measurement and inspection of box integrity. Check out SICK's quality inspection solutions at Pack Expo 2019 in Booth #LS-6419.