Complete 3.6kW and 7.2kW Plugless Demonstration Systems Enable Companies and Research Institutions to Leapfrog Early Inductive Charging Development Phase.
Evatran Group, Inc. ("Evatran"), the manufacturer and distributor of Plugless, the only wireless EV charger available for purchase in the world is now selling demonstration systems for robotic or automated systems companies looking to integrate high-powered inductive charging into their products at a fraction of the cost of ground-up or licensed development. Plugless systems have been used by research institutions across the world, installed by electrified fleet companies, military programs and on a fleet of fully-autonomous driverless shuttle buses.

Plugless offers complete 3.6kW and 7.2kW development/ lab systems for sale to qualified companies and research institutions. Each system comes with a complete, functioning benchtop wireless charging system for research including a vehicle simulator. Each system is demonstration-ready right out of the box.
- A full demo 3.6kW demo system is available now for $5,999 (USD) - features and terms here:
https://www.pluglesspower.com/shop/plugless-demo-system/
- The 2nd Generation 7.2kW system is available for $12,999 (USD) - features and terms here:
https://www.pluglesspower.com/shop/plugless-7-2kw-demo-system/
"With the exponential growth of technologies relying on electric motors, and companies exploring varying degrees of autonomy, wireless inductive charging is a popular feature set in product development," said Ned Freeman, V.P. of Marketing and Sales for Evatran. "Our demo system customers appreciate starting with a working system that has already provided more than 900,000 charge hours in every conceivable environment and across a wide variety of platforms."
Special terms apply and demonstration systems are in limited supply.
Featured Product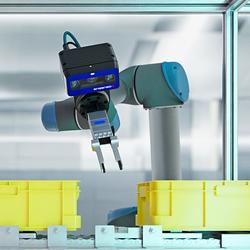 App Your Sensor®! What would smartphones be without apps? They would be mobile phones that can't do much more than make phone calls and sending SMS. Apps turn smartphones into intelligent assistants with any number of different tasks. Transferred into the world of image processing, this app-based approach transforms cameras and sensors into customised, smart vision sensors.