Dexter, the people's robot, has been released into the wild and is already attracting world-wide support
HENDERSON, Nev.--(BUSINESS WIRE)--Haddington Dynamics (HD), creators of the high-precision 3-D-printed robot arm Dexter, today announced that Dexter is gaining traction in the robotics and maker communities, and invited collaboration opportunities for innovators throughout the world.

On Feb. 14, Haddington Dynamics published all of the source code for anyone to build and customize their own personal robotics factories. The next day, the company launched its Kickstarter campaign, aimed at seeding the community with kits, fully assembled robots and training packages—ranging from robot assembly and programming to full robot production micro-businesses.
Haddington Dynamics has achieved more than sixty percent of its $100,000 funding goal within the first week of its Dexter Kickstarter campaign. In addition, the company is receiving a groundswell of requests to collaborate.
"We had high hopes of attracting quality collaborators with our philosophy of pure open source, but we had no idea it would begin to happen so quickly and work out so well," said Kent Gilson, co-founder of Haddington Dynamics and chief architect of Dexter. "Within days of launch, we are engaging with the brightest people from all over the planet wanting to contribute to all aspects of Dexters development."
Dexter was recently featured in a YouTube video by Barnacules Nerdgasm: https://www.youtube.com/watch?v=B2Us1Gc3_Zc
People interested in contributing to the development of Haddington Dynamics Dexter platform are invited to visit the companys Kickstarter campaign: https://www.kickstarter.com/projects/51496107/dexter-the-robotic-arm-to-end-scarcity?ref=user_menu
Additional information about Haddington Dynamics, its team and progress is available at the companys website: www.hdrobotic.com
About Haddington Dynamics
Haddington Dynamics (www.hdrobotic.com), a Henderson, Nevada engineering firm, designs high precision, low cost robots powered by an FPGA supercomputer, used as primary motion systems for heterogeneous direct digital manufacturing. The companys flagship product, Dexter, is a high-precision, high-performance 3D-printed robotics platform powered by advanced supercomputing technology. Dexter is designed to radically bend cost curves, and its innovative open-source design will ultimately help robotics become a ubiquitous presence in everyday life for a rapidly expanding user base. Dexter has 50-micron repeatability. It is sold as a kit for under $3,000 and fully assembled for under $5,000.
Featured Product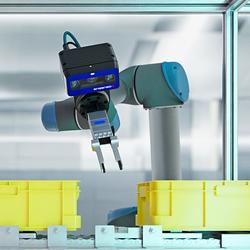 App Your Sensor®! What would smartphones be without apps? They would be mobile phones that can't do much more than make phone calls and sending SMS. Apps turn smartphones into intelligent assistants with any number of different tasks. Transferred into the world of image processing, this app-based approach transforms cameras and sensors into customised, smart vision sensors.