Distribution Property Solutions, Inc. (DPSI) announces the expansion of its Pallet Shuttle Automated Deep Lane Storage System manufacturing to the United States.
Distribution Property Solutions, Inc. (DPSI) has announced an agreement with Storage Management Systems (SMS) of South Africa to expand manufacturing operations of its Pallet Shuttle System to the United States.

Pallet Shuttle is an Automated Deep Lane Pallet Storage and Retrieval system that increases warehouse storage capacity, reduces forklift travel and enhances labor utilization.
Steve Cappella of DPSI states, "The recent decision to manufacture in the U.S. is motivated by an improving American business climate, low energy costs and a growing technical labor force. Warehouse automation is reaching a tipping point in the U.S. as manual labor continues to increase costs and safety concerns in bulk storage operations.
Our on-going goal is to create jobs in manufacturing, construction, warehousing robotics and long term maintenance. These projects will create inner-city construction activity, long-term distribution jobs and robotics training that will help blue collar workers transition from manual labor to robotics and automation."
Theuns Pretorius, of SMS, stated, "We are excited about our partnership with DPSI and the ability to expand manufacturing of automated systems to the U.S.A. This move will enhance logistics, improve technical support and reduce lead times for Pallet Shuttle projects in North America."
Distribution Property Solutions, Inc. is a turnkey provider of unique high density storage systems. With offices in California, Texas and Tennessee, the company has a footprint to service national and multinational clients with their innovative solutions.
The company offers its products and services directly to end users via its unique Affiliate Network Program.
Their clients include high profile companies such as Anheuser-Busch, Miller/Coors, Pepsi, Sysco, U.S. Foods, Hanesbrands, Disney and a wide variety of small to mid-tier companies.
To help operations finance automation projects, DPSI offers an operating lease program to help customers proceed with labor saving benefits reducing the challenges of long-term capital acquisition efforts.
For more information contact Palletshuttle
Featured Product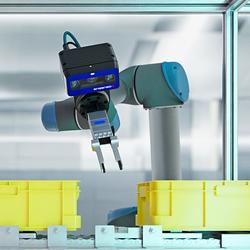 App Your Sensor®! What would smartphones be without apps? They would be mobile phones that can't do much more than make phone calls and sending SMS. Apps turn smartphones into intelligent assistants with any number of different tasks. Transferred into the world of image processing, this app-based approach transforms cameras and sensors into customised, smart vision sensors.