Aldakin Automation will distribute Rethinks Sawyer throughout the country
BOSTON - Feb. 28, 2017 - Rethink Robotics today announced an agreement with leading robotics provider, Aldakin Automation, to distribute its smart, collaborative robots to the entire Spanish manufacturing market.

Fresh off the launch of its new Intera 5 software that can coordinate a work cell from a single Sawyer robot, Rethink Robotics is helping manufacturers across the globe improve automation and production tasks. This new partnership further expands Rethink Robotics network of distributors, which also covers the U.K., Germany, France, Australia, China, Korea, Japan, Israel, Mexico and Australia.
"Spanish manufacturers are looking for ways to improve smart manufacturing initiatives and overall efficiency in their factories," said Francisco Lopez de Alda, CEO of the Aldakin Group. "With collaborative robots such as Rethinks Sawyer available in Spain, we can help these manufacturers better adapt to industry demands and pave the way to a more connected factory."
Aldakin Automation helps customers automate their production operations, helping manufacturers with design, installation and maintenance. Aldakin can now provide Rethinks smart, collaborative Sawyer robot to its customers, opening new opportunities to automate tasks that were never before possible.
"As the demand for Sawyer continues to grow, it is clear that manufacturers across the globe are placing more value on automation tools that can help them become more efficient in their factories," said Scott Eckert, president and CEO, Rethink Robotics. "Spain, like many countries around the world, is dealing with labor shortages, inflexible automation and changing market demands. Aldakin Automation is empowering manufacturers there to more effectively implement smart strategies with options like Sawyer."
Based in Alsasua, Aldakin Automation has been leading the development of automation and robotics for industrial processes in Spain since 2014. Aldakin Automation is part of Aldakin Group, founded in 1988. Aldakin Group was originally focused on electrical engineering, and in the last 25 years has expanded to automation and robotics. In 2015, the company created a separate division, Aldakin Automation, to focus on the developing automation and robotics business, and, in 2017, Aldakin Automation launched Micobot.es to focus specifically on Rethink Robotics products.
For more information, please visit rethinkrobotics.com.
About Rethink Robotics
Rethink Robotics is transforming the way manufacturing gets done, with smart, collaborative robots able to automate the 90 percent of tasks that until now, have been beyond the reach of traditional automation. Its Baxter™ and Sawyer robots, powered by the Intera software platform, adapt to real-world variability, can change applications quickly and perform tasks like people do. The result: manufacturers of all shapes, sizes and industries get the fast-to-deploy, easy-to-use and versatile automation solution they need to increase flexibility, lower cost and accelerate innovation.
Based in Boston, the Rethink product suite is available in Asia, Europe and North America. The company is funded by Bezos Expeditions, CRV, Highland Capital Partners, Sigma Partners, DFJ, GE Ventures and Goldman Sachs. For more information about Rethink Robotics, please visit www.rethinkrobotics.com and follows us on Twitter @RethinkRobotics.
Featured Product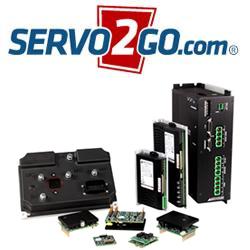 Engineered to drive brushless and brush servomotors in torque, velocity or position mode, Servo2Go.com offers a broad selection of servo drives in a wide range of input voltages and output power levels.