Milrem's fully modular unmanned ground vehicle THeMIS equipped with KONGSBERG PROTECTOR Remote Weapon Station
WASHINGTON--(BUSINESS WIRE)--Defense solutions provider Milrem is developing smart unmanned ground vehicles with concepts of how to use them on the modern battlefield as adaptive systems to minimize dangerous risks to warfighters. Milrem will launch joint product efforts with KONGSBERG and QinetiQ North America this week.

Milrem has developed the first fully modular unmanned ground vehicle with a hybrid diesel-electric drive, the THeMIS. This open architecture system may be configured mission-specific as required to be used in various combat roles.
With a 1:1 high payload of 750 kg / 1650 lbs., THeMIS may also be equipped with a remote weapon station with embedded target detection and acquisition systems to provide fire support.
A remotely operated robotic fire support and force protection system has been developed with leading military innovators KONGSBERG and QinetiQ North America (QNA) and is being introduced at the Ground Robotics Capabilities Exhibition & Conference 2017 (GRCCE) this week. This joint effort features the THeMIS unmanned ground vehicle, the PROTECTOR Remote Weapon Station, and QNAs UGV control systems.
"This is a great opportunity to collaborate with such an esteemed company as KONGSBERG and continue our cooperation with QNA. Integration of this remote weapon station is another example of how easily the THeMIS can be configured for different applications. These various applications form a system of robotic warfare capabilities" explained Kuldar Vaarsi, CEO of Milrem.
Last October the companies introduced the Titan UGV for dismounted troop support that features the THeMIS UGV with QNA's UGV control technology - the Tactical Robot Controller (TRC) and Robotic Appliqué Kit (RAK). This vehicle will also be displayed at GRCCE.
In parallel, Milrem is developing technologies for military forces to enable how unmanned ground systems may be used in combat as an efficient and powerful manned-unmanned teaming system that reduces battlefield risks to warfighters.
The end results of this program, known as Digital Infantry Battlefield Solution (DIBS) will result in recommendations for military doctrine in order to effectively use the capability of robotic systems.
To see the THeMIS in combat, please visit https://www.youtube.com/watch?v=DfqGuFYKSoE and https://www.youtube.com/watch?v=nTdRVkJ-YAU
About Milrem
Milrem is an Estonian technology solutions provider. The companys key business areas include the research and development of unmanned vehicles and life cycle management for heavy military vehicles.
Featured Product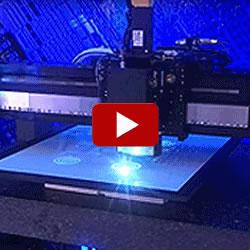 A traditional gantry system employs X-Y or X-Y-Z range of motion. Mounted on a base plate, usually granite, 2 parallel rails constitute the synchronized Y axis motion while the cross axis (bridge axis) provides the X motion. A vertical axis can be added on the bridge for the Z motion. A Split Bridge system can be less complex than a traditional gantry system because synchronization of the two parallel linear motors is not required. Both systems are used in industrial production, testing, and additive manufacturing.