Wake Tech Community College launches Collaborative Robotics program with donation of ABBs YuMi® robot
Wake Tech Community College has launched a new Collaborative Robotics program at its Advanced Manufacturing Center in Raleigh, NC. The training program features YuMi, an award-winning, dual-arm, small parts assembly robot that includes flexible hands and state-of-the-art controls.

YuMi is manufactured by ABB, a pioneering technology leader in electrification products, robotics and motion, industrial automation and power grids, serving customers in utilities, industry and transport & infrastructure globally. YuMi is designed for a new era of automation in which people and robots will work side by side. ABB donated the collaborative robot to Wake Tech through a partnership with the Wake Tech Foundation.
"Leading-edge community colleges, such as Wake Tech, play a critical role in preparing the American workforce for the future of manufacturing," says Dr. Stephen Scott, Wake Tech President. "As manufacturing returns to the United States, it will not look as it did before. Modern industry needs trained and skilled employees in automation and advanced manufacturing."
Robotics is one of the fastest growing technologies in the world. Globally, the countries with highest density of robots per factory worker (South Korea, Germany, and Japan) enjoy low unemployment rates.
"Automation drives competitiveness and productivity while it creates jobs and economic prosperity," says Greg Scheu, President of the Americas Region for ABB. "It is important for industry, education and government to work together to train and bring people with us to enjoy the prosperity of a new industrial revolution."
YuMi will be incorporated into a course that teaches the principles of collaborative robotics through hands-on labs and online modules. Students will explore the robots uses, applications, operation, and maintenance. YuMi will also be included in other classes at Wake Techs Advanced Manufacturing Center, including manufacturing processes, circuit board technology, and industrial maintenance.
Collaborative Robotics is a Workforce Continuing Education training program that will be taught at the Beltline Education Center in Raleigh.
About Wake Technical Community College
Wake Tech is North Carolinas largest community college, serving more than 71,000 adults annually, with five campuses, three training centers, multiple community sites, and a comprehensive array of online learning options. Wake Tech is fully accredited and offers more than 200 associates degrees, diplomas, and certificates that prepare students for university transfer or immediate employment. The college offers non-credit continuing education programs that include customized workforce training, small business support, public safety officer training, basic skills courses such as English as a Second Language and high school equivalency preparation, and other courses for personal enrichment. Wake Tech also serves high school students at the Wake Early College of Health and Sciences and the Vernon Malone College and Career Academy, in partnership with Wake County Public Schools. For more information, visit www.waketech.edu, www.twitter.com/waketechcc, and www.facebook.com/waketechcc.
About ABB
ABB (ABBN: SIX Swiss Ex) is a pioneering technology leader in electrification products, robotics and motion, industrial automation and power grids serving customers in utilities, industry and transport & infrastructure globally. For more than four decades, ABB is writing the future of industrial digitalization. With more than 70 million devices connected through its installed base of more than 70,000 control systems across all customer segments, ABB is ideally positioned to benefit from the Energy and Fourth Industrial Revolution. With a heritage of more than 130 years, ABB operates in more than 100 countries with about 132,000 employees.
www.abb.com
Featured Product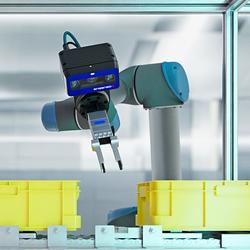 App Your Sensor®! What would smartphones be without apps? They would be mobile phones that can't do much more than make phone calls and sending SMS. Apps turn smartphones into intelligent assistants with any number of different tasks. Transferred into the world of image processing, this app-based approach transforms cameras and sensors into customised, smart vision sensors.