Robotic Cell Workstation and the MS300 with IP40 and Rugged Conduit Box also among featured integrated automation solutions on display at Booth #N1662
Chicago, April 03, 2017 —Delta Group, a global leader in power and thermal management solutions, today announced the availability of the AS300 Series compact PLC for advanced machinery applications to the North American market. The AS300 joins Deltas Robotic Cell Workstation and the MS300 VFD with IP40 and Rugged Conduit box as featured smart manufacturing enabling technologies from the companys extensive portfolio of Industrial Automation Products being showcased at Automate 2017 in Chicago from April 3 - 6. Deltas cutting-edge scalable architecture solutions are suitable for machine, line and factory automation for a variety of applications, including material handling, automated warehousing, food & beverage packaging, and automated assembly spaces.

Automate attendees at every stage of the smart manufacturing journey are encouraged to grab their Delta Automation passport at booth #N1662 to participate in hands-on demos that showcase Deltas integrated automation solutions for industrial machinery.
AS300 Series Compact Modular Mid-range PLC
The AS300 provides advanced control at a machine and line level. It features integrated motion control with six axis via pulse control (200kHz or 4MHz) and built-in encoder feedback. Up to eight of Deltas ASDA-A2 Series servos can be controlled with the addition of a CANopen network module for accurate pick-n-place applications. Deltas self-developed 32-bit System-on-a-Chip (SoC) is utilized in the AS300s design for enhanced speed at 40k steps/ms and supports up to 32 extension modules or up to 1,024 outputs, without sacrificing performance.
This enabling technology for smart manufacturing is feature-rich, yet lean in its design. The AS300 includes a built-in Ethernet port with EtherNet/IP and Modbus TCP communication & OPC server connectivity, SMTP email server connectivity for alarm notification, an integrated light-webserver and direct database connectivity via eServer tool when combined with Delta HMI for complete solution. It also provides multi-layer password protection for enhanced system security. For added convenience and efficiency, the AS300 includes a Micro SD card with up to 32GB additional storage.
The AS300 is modular, durable and utilizes a robust rack-less design with Deltas patented "Slide-Lock." This innovative feature allows for quick connection and easy expansion without moving other modules. Removing and replacing modules, which in the past would require a significant time commitment, is now quick and easy.
Robotic Cell Workstation
Deltas Robotic Cell with a 4-Axis SCARA robot, which will be available to demo, is a complete application-based solution specifically for dynamically tracked pattern control that leverages IIoT to connect the station to the cloud via a 3D cloud router.
Delta has deployed this technology within one of its production facilities for finished product detection, gluing tracking, automated screw tightening as well as soldering and other processes. On Deltas fan rotor assembly line, the Robotic Cell is used to support the pick-and-place of fan blades via a suction device to streamline operations and increase production capacity per hour by 20 percent without sacrificing quality. In a different application, the solution has been able to achieve a zero-human error rate and reduce a 68-minute testing time to 18 minutes - a 74 percent increase in efficiency.
The Robotic Cell Workstation encapsulates Deltas extensive IP, which comes from being the largest manufacture of power supplies in the world, and the Industrial Automation teams in-depth knowledge of production, dispensing processes and IIoT tools.
MS300 Series Compact Drives with IP40 and Rugged Conduit Box
The MS300 Variable Frequency Compact Drives utilize rugged metal conduit boxes for on-conveyor mounting and drive vent covers to achieve IP40 NEMA1 protection against falling objects. An internal PLC allows for localized processing and standalone control with sensors directly connected to the on-board I/O, eliminating the need for additional external controls. The Safe-Torque-Off function ensures operator safety and the Traction Energy Control feature allows for quick deceleration to reduce production cycle time and overall energy usage. These features extend into the new MH300 Series, a high-performance version of this compact VFD series, and come with two option slots, one for PG, I/O extension and external DC 24V power cards and the other is for fieldbus communication including EtherCAT, to achieve determinism on a single high-speed network - ideal for centralized control architectures.
"With Deltas comprehensive line-up of integrated automation solutions for industrial machinery, we are ready to help machine builders and system integrators improve the robustness of their machines, reduce their overall control system footprint and create lean architectures for superior engineering," said Bill Faber, Director of Delta Products Corporation's Industrial Automation Marketing.
For more information and to learn about Deltas full range of automation technologies, including Programmable Logic and Motion Controllers, AC Motor Drives (VFD), Servo Motion Systems, Human Machine Interfaces (HMIs), Temperature Controllers, Ethernet Networking Modules, Communication Devices, Sensors, Power Supplies, Power Quality Devices, Actuators and Robotics, visit www.delta-americas.com/automate2017.
About Delta Americas
Delta Americas was established 33 years ago and has grown to over one thousand employees in recent years. Delta has offices, R&D centers, manufacturing, distribution and repair centers in multiple locations in the U.S., Mexico, and South America. In the U.S, operations are located in Fremont, Los Angeles, San Diego, Seattle, Austin, Dallas, Houston, Raleigh, Boston and Detroit to better serve its diverse customer base. Outside the U.S. Delta continues to expand its Americas operations in Mexico, Argentina, Brazil and Canada.
Delta Americas serves the IT, communications, industrial automation, renewable energy, lighting, power tool, automotive electric vehicle, and other major industries. Products include power electronics, DC brushless fans, visual displays, industrial automation, networking products, electronic components, consumer products, energy efficient and renewable energy products to name a few. The company is always striving to define new ways to improve the energy efficiency of its products through advanced research and product development.
For more information, please visit: www.delta-americas.com
About Delta
Delta, founded in 1971, is a global leader in power and thermal management solutions and a major player in several product segments such as industrial automation, displays, and networking. Its mission statement, "To provide innovative, clean and energy-efficient solutions for a better tomorrow," focuses on addressing key environmental issues such as global climate change. As an energy-saving solutions provider with core competencies in power electronics and innovative research and development, Delta's business domains include Power Electronics, Energy Management, and Smart Green Life. Delta has 153 sales offices, 61 R&D centers and 40 manufacturing facilities worldwide.
Throughout its history, Delta has received many global awards and recognition for its business achievements, innovative technologies and dedication to corporate social responsibility. Since 2011, Delta has been selected as a member of the Dow Jones Sustainability™ World Index (DJSI World) for 6 consecutive years. In 2016, Delta was ranked by CDP (formerly the Carbon Disclosure Project) at the Climate Change Leadership Level.
For more information about Delta, please visit www.deltaww.com.
Featured Product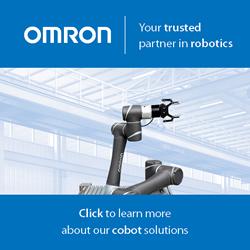 Humans and robots can now share tasks - and this new partnership is on the verge of revolutionizing the production line. Today's drivers like data-driven services, decreasing product lifetimes and the need for product differentiation are putting flexibility paramount, and no technology is better suited to meet these needs than the Omron TM Series Collaborative Robot. With force feedback, collision detection technology and an intuitive, hand-guided teaching mechanism, the TM Series cobot is designed to work in immediate proximity to a human worker and is easier than ever to train on new tasks.