Company adds longer arm length, higher inertia, and increased load mass for greater functionality in its 6-axis robots
CHICAGO, IL - APRIL 3, 2017 - Today TM Robotics, in partnership with Toshiba Machine, announced the launch of Toshiba Machine's newest TVM 6-axis line from the biggest robotics show in the world, Automate. The new 6-axis robots are compatible with other Toshiba Machine products, including injection molding machines and machine tools, and are a great fit for companies that have significant material handling and general machine tending needs. The new cost-effective TVM model is a vertically articulated robot series aimed at a multitude of industries, such as automotive components, plastics, medical, packaging, and pharmaceutical, due to its high productivity in transfer and assembly and lightweight, reliable design.

Toshiba Machine has initially released three models of the TVM - all with varying specifications:
• TVM900/TSL3200E; Reach 1124mm, Payload 20kg
• TVM1200/TSL3200E; Reach 1418mm, Payload 15kg
• TVM1500/TSL3200E; Reach 1715mm, Payload 10kg
Combined with Toshiba Machine's robot vision recognition package, TSVision3D, the TVM also supports easy implementation of bin-picking automation. With such convenience, no CAD data is necessary for model registration. Instead, the introduction of an automated system is supported with an easy calibration procedure.
In addition to the TVM launch, TM Robotics will also be featuring a number of robots and partnerships from the TM Robotics booth at Automate. They include:
• New partnership with ASG. The TH550A SCARA will be demonstrated with ASG to showcase screwdriver assembly applications.
• The TVL500 6-axis and the THL300 SCARA. Working together to hold a golf club and putt, demonstrating how each robot can accomplish deliberate tasks that require attention to finite details.
• The TSVision3D software. Enables system integrators to easily automate bin picking and is of great interest to industries such as food preparation, pharmaceutical, and order fulfillment.
TM Robotics' Founder and CEO Nigel Smith will be on hand from Automate booth #1668 to discuss 6-axis robot trends, when it makes the most sense to use a traditional vs. a collaborative robot, why it's so important that a product line like Toshiba Machine's is able to offer the full spectrum of robots (6-axis, Cartesian, and SCARA), and more.
"Automate is the most important show we attend every two years and we're thrilled to be here with so many of our partners, colleagues and customers," said Smith. "With all of us under one roof, it's the perfect place to showcase what we're doing and make business connections that count."
Automate exhibitor hours will run from 10:00 a.m. until 5:00 PM Monday, April 3, through Wednesday, April 5, with the show floor closing at 3:00 PM on Thursday, April 6.
About TM Robotics
TM Robotics, in partnership with Toshiba Machine, offers a comprehensive range of Toshiba Machine Industrial Robots ideally suited for high-precision assembly, machine loading/unloading and material-handling applications that can be dust proof, clean room, or IP65/67. The company's extensive product line starts with a Cartesian solution available in thousands of combinations, from single actuators to four-axis solutions to six-axis solutions that can include precise vision-control, as well as a complete range of SCARAs, from low cost to the industry-leading SCARA with 1200-mm reach that can carry up to 20 kgs. TM Robotics sells and services robots throughout Europe, Australia, the Middle East, India, Russia, Oceania and Africa, as well as North, Central, and South America. European headquarters are in Hertfordshire, England, and U.S. headquarters are in Elk Grove Village, IL. For more information, visit www.tmrobotics.com or follow the company on Twitter, LinkedIn and YouTube.
Featured Product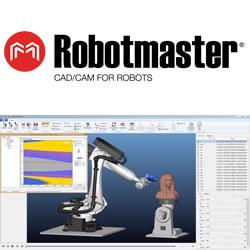 Since Robotmaster V7 uses integrated CAD/CAM functionality, for the first time, the power of Robotmaster can be used by welding, cutting and other process experts without buying or learning complex CAD/CAM software. As in past versions, Robotmaster V7 imports paths, but now makes it even easier for end users to leverage any CAD/CAM tool choice. It is an intuitive tool that anyone could use, with or without robotics expertise. It bridges the gap between robots and manufacturing by providing easy programming solutions for part manufacturing.