Known for High Quality, Reliability and Precision; Applied Robotics, Inc. announces the addition of vacuum gripping to round out their traditional gripper product line.
Glenville, NY: Today, Applied Robotics, Inc., a leading global provider of robotic end-of-arm tooling and connectivity solutions, announced the expansion of vacuum capability to their line of grippers at the Automate Show in Rosemont, IL. (April 3-6th, 2017). Grippers are what allow robots to do work. A gripper is a robots hand, enabling holding, tightening, handling, moving and releasing an object.

In addition to the existing pneumatic parallel and angular grippers; Applied Robotics now offers a line of vacuum managers, modular vacuum grippers, suction cups and custom framing. Vacuum gripping is the perfect way to handle boxes, bags, automotive body panels, glass and more. Applied Robotics addition of vacuum gripping solutions fills the final gap in their gripping product line and allows them to tout the ability to help their customers "handle anything".
Complementing the expanded vacuum gripping component line are other services such as custom gripper frame design and assembly using Univer GR8 structured aluminum profiles.
"Many times, vacuum grippers need to handle awkward shapes and large work pieces requiring custom framing and weve seen there is a need for design and fabrication services for that framing," said Kevin Drummond, Director, Sales & Marketing for ARI, "Applied Robotics, Inc. is proud to offer these design services and then provide pre-cut kits ready for assembly by the integrator or turn-key tooling, assembled and ready to go."
For more information, visit Applied Robotics, Inc. this April 3-6 at booth #1262 or at their website www.appliedrobotics.com
About Applied Robotics, Inc.: Applied Robotics, Inc. ,headquartered in Glenville, NY, is a leading global provider of robotic end-of-arm tooling and connectivity solutions; specializing in tool changing, collision detection, and gripping applications. Applied Robotics provides industry and application specific solutions to the most challenging automation problems.
With over thirty years of experience engineering complex robotic and automation equipment, Applied Robotics was the first company to develop automated tool changers and continues to engineer state-of-the-art solutions allowing our customers to stay at the forefront of their respective industries all over the world.
Featured Product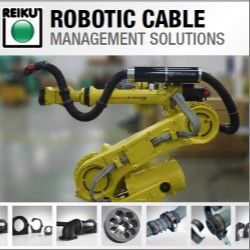 REIKU's Cable Saver™ Solution eliminates downtime, loss of revenue, expensive cable and hose replacement costs, maintenance labour costs. It's available in three sizes 36, 52 and 70 mm. All of the robots cables and hoses are protected when routed through the Cable Saver™ corrugated tubing. The Cable Saver™ uses a spring retraction system housed inside the Energy Tube™ to keep this service loop out of harms way in safe location at the rear of the Robot when not required. The Cable Saver™ is a COMPLETE solution for any make or model of robot. It installs quickly-on either side of the robot and has been tested to resist over 15 million repetitive cycles.