Weather Channel's Jim Cantore to host program with Intel® CEO Brian Krzanich, FAA Administrator Michael Huerta and more thought leaders
ARLINGTON, Va., April 3, 2017 /PRNewswire/ -- The Association for Unmanned Vehicle Systems International (AUVSI) today announced the keynote lineup for XPONENTIAL 2017, which includes thought leaders from government, academia and business who will discuss the opportunities and innovations in the unmanned systems industry. XPONENTIAL will take place at the Kay Bailey Hutchinson Convention Center in Dallas from May 8 to 11, 2017.

The keynote program will be hosted by the Weather Channel's Jim Cantore and will feature Intel CEO Brian Krzanich, FAA Administrator Michael Huerta, Virginia Gov. Terry McAuliffe, and executives from Airbus Defence and Space, GE Oil & Gas and Northrop Grumman.
AUVSI President and CEO Brian Wynne will open the program on Tuesday, May 9, at 8:30 a.m. CDT, followed by Intel's Krzanich, who will deliver the show's opening keynote, discussing the future of drones and other unmanned systems, and the technology innovations that will impact development.
Keynotes on Wednesday, May 10 will begin at 8:30 a.m. CDT and focus on regulatory issues and innovation. FAA Administrator Huerta will start the day's program, followed by Dirk Hoke, CEO of Airbus Defence and Space, and Brian Chappel, Sector Vice President and General Manager, Autonomous Systems, Northrop Grumman.
On Thursday, May 11, keynotes will resume at 8:30 a.m. CDT, with Gov. McAuliffe, who will address the state's initiatives to drive innovation in the unmanned systems sector. That will be followed by a keynote panel session including Brad Tomer, Chief Operating Officer, Avitas Systems, a GE Venture and other enterprise leaders. This visionary discussion will focus on why early stage users are investing in unmanned systems, how customer-focused partnerships are facilitating adoption, and what the long-term impacts could be for business operations.
"A number of factors, including regulatory changes and technology advancements, are converging to drive rapid, unprecedented growth in the unmanned systems industry," AUVSI's Wynne said. "At XPONENTIAL, we have gathered the industry's thought leaders to share their real-world experience, smart strategies, and a glimpse toward the future."
More than 7,000 industry leaders and professionals from over 55 countries are expected to attend XPONENTIAL 2017. The exhibit hall will showcase more than 650 cutting-edge companies from around the world, representing more than 20 industries.
Registration for XPONENTIAL 2017 has opened. For more information, visit http://bit.ly/2jgeaLQ
About AUVSI
The Association for Unmanned Vehicle Systems International (AUVSI) — the world's largest nonprofit organization dedicated to the advancement of unmanned systems and robotics — represents more than 7,500 members from more than 60 countries involved in the fields of government, industry and academia. AUVSI members work in the defense, civil and commercial markets.
Featured Product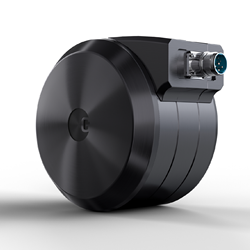 Welcome to the next generation of robotics and machinery. LiveDrive LDD is a unique direct drive motor that overcomes almost every limitation of servo geared solutions. A 50% reduction in length from typical geared motor is possible with Genesis direct drive motors. Choose to simplify machine designs and have a shorter footprint while having high performance, accuracy, and efficiency.