Autonomous vehicles, manufacturing, retail, robotics and healthcare are just some of the many fields where artificial intelligence is currently being applied. Hear from representatives of the German Research Institute of Artificial Intelligence (DFKI), Skyscanner, University of Amsterdam and many more at the summit.
How close are artificial intelligence systems to human-level intelligence? Recent advances in machine learning and deep learning make artificial intelligence ever more commonplace in our daily lives, often in previously unimaginable ways. This poses numerous questions about impact and timescales, as well as potential positive effects on our environment. The RE•WORK Machine Intelligence Summit, taking place on 28-29 June 2017 in Amsterdam, will explore these impacts in depth.

Robots are goal orientated in nature and thus perceive their environment as such. In order to achieve goals based in cognition, robots not only need to map their environment but also discern semantics. At the summit, Sven Behnke, Head of Autonomous Intelligent Systems Group and Full Professor of Computing Science at the University of Bonn, will detail their models for machine learning tasks, such as, surface categorization, detection, and recognition, from which 3D semantic environment maps are built. Imagine its utility in domestic service, space exploration, and search and rescue.
However, Roland Vollgraf, Research Lead from Zalando Research, applies mapping in a very different way. Zalando uses Fashion DNA: a structural feature mapping of fashion articles. Every article can be described in relative similarity; and thus has its own well-defined location in an abstract space. Fashion DNA processes product images, textual descriptions, vendor product attributes, or combinations thereof, through deep neural networks to create a unique coordinate vector. Articles, even those not yet designed, can be identified, and styles can be described formally; potentially changing how the retail and design industry will sell and market their goods.
Another industry currently being revolutionsed by advances in machine learning is the automotive sector. At the concurrent Autonomous Vehicle Track, Guan Wang, Machine Learning Engineer at NIO, will speak about personalising the self-driving car experience with machine intelligence. Equipped with a machine learning engine, autonomous cars will know their driver personally, their commute preferences, and even know their families. Cross-vehicle in-cabin knowledge discovery can make the cars capable of providing real-time assistance, such as point-of-interest recommendation, trip visualization and monitoring, and just-in-context services.
Learn more from Behnke, Vollgraf and Wang at the Machine Intelligence Summit and Machine Intelligence in Autonomous Vehicle Summit in Amsterdam. There will be more than 50 extraordinary speakers joining them across both tracks. Hear from representatives of the German Research Institute of Artificial Intelligence (DFKI), Skyscanner, University of Amsterdam and many more at the summit. Topics covered include Drones, Robotics, Pattern Recognition, Vehicle-to-Vehicle Communication, Natural Language Processing, AI in Security Systems, and Industrial Automation. Know someone who would be a good speaker? Suggest them here!
Click here for more information and to register for the Machine Intelligence Summit or here for the Autonomous Vehicle track. Dont miss out on the Early Bird Passes that are only on sale until 12th May!
Summit attendees will also gain access to presentation slides, recordings and exclusive interviews on the RE•WORK Video Hub. Cant attend? On-demand passes are also available.
Featured Product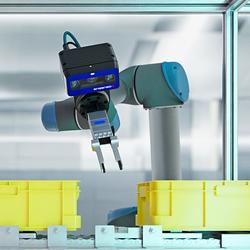 IDS NXT: a platform for a new generation of vision systems for industrial applications. It lays the groundwork to provide easy-to-use yet flexible complete systems that can be used to implement all steps of a vision solution. With IDS NXT ocean, a complete solution especially for AI-based image processing is now available. It allows to solve tasks where classic, rule-based image processing has reached its limits - without any programming effort.