Acquisition Will Deliver Product Line Expansion to Global Customer Base
WAKEFIELD, Mass.--(BUSINESS WIRE)--Persimmon Technologies of Wakefield, MA announced it has been acquired by Sumitomo Heavy Industries (SHI). With the acquisition, SHI will add vacuum robotics and next generation electric motor technology to its product portfolio, aimed at driving additional growth to its semiconductor-related businesses including cryopumps and XY stages. Also, the Company plans to utilize the Hybrid-Field electric motor technology derived from Persimmons research and development, in its products, with the aim to achieve business expansion in such areas as gear reducers for industrial robotics and plastic extrusion machinery.

Persimmon Tech acquired by Sumitomo to add vacuum robotics to its #semiconductor product array
Tweet this
"We are thrilled to become part of a $7 billion organization with such a strong global presence and balance sheet. SHI is positioned to invest heavily in our Hybrid-Field electric motor technology and expand our robot manufacturing capacity in Wakefield. In addition SHI will invest aggressively in our robotics applications engineering, field service and sales staff in China, Korea, Japan, Taiwan and the USA," states Michael Pippins, President and CEO of Persimmon Technologies. "The merger will also enable us to take advantage of the massive market potential for hybrid-field electric motors in rapidly growing electric vehicle and industrial robotics markets."
Since launching in 2011, Persimmon has been developing and manufacturing in Wakefield, MA its disruptive Hybrid-Field electric motor technology. "Our technology offers a new approach to making electric motors using an additive manufacturing process that significantly increases power density, eliminates multiple production steps and reduces costs," according to Dr. Martin Hosek, Vice President and CTO of Persimmon. "Being part of SHI will allow us to step up the pace of technical development and further expand our portfolio of world-class products."
"SHI has been impressed by Persimmons team and its research and development activities in vacuum robotics and hybrid-field motor technology," said Shunsuke Betsukawa, President and CEO of SHI. "The acquisition will expand our product line and accelerate the growth of our company in semiconductor-related fields and new markets."
About Sumitomo Heavy Industries, Ltd. (SHI)
SHI is an integrated manufacturer of industrial machinery, power transmission and control equipment, plastic injection molding machines, laser processing systems, cryogenic equipment, construction machinery, material handling system, cancer diagnostic and treatment equipment, ships, environmental facilities and others. More information can be found at http://www.shi.co.jp/english/.
About Persimmon Technologies
Persimmon Technologies is a leading provider of vacuum robotics for the semiconductor, LED and flat panel display equipment markets. Persimmon has also developed Hybrid-Field elective motor technology based on additive manufacturing techniques. Headquartered outside of Boston, Massachusetts, Persimmons develops, manufactures and distributes vacuum robotics and Hybrid-Field electric motors worldwide. For more information on Persimmon technology, please visit www.persimmontech.com.
Featured Product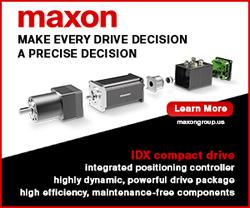 Discover the world of drive technology from a leading worldwide supplier of innovative customized drives. - Manufacturer of brushed and brushless DC motors, gearheads and motion controllers - Custom drive systems, quantities as low as a single unit - Certified for aerospace and medical applications