Certification programme equips users with high-level RPA skills, allowing them to implement RPA within their own companies
UiPath introduces UiPath Academy, the first free of charge, self-led online training environment for RPA professionals to obtain a UiPath RPA certification.

By creating a certification-based RPA program, UiPath Academy brings more expertise to the market and ensures that organizations will be able to scale their RPA deployments faster and more predictably.
One year ago UiPath made RPA free for individual users, education projects and small businesses. UiPath Community has proved a great success and has been empowering several thousand RPA developers passionately craft their way into the future of automation.
UiPath is now taking a further step in its plan to bring the benefits of RPA to customers more quickly.
With a two-step training and certification program - Beginner and Advanced - UiPath Academy lets business teams and technical users acquire the ability to implement RPA enterprise wide. A fully designed curriculum blends theory, hands-on knowledge and layers of gamification, creating a thoroughly engaging and fun learning environment.
Daniel Dines, Founder and CEO of UiPath: "RPA helps organizations run their operations better, faster and more reliably. It also frees employees from the repetitive, tedious tasks. This technology is transforming the way we understand and carry out work, and those who learn to master it today, will be at the forefront in the future."
The trainings are available in English, with French, Japanese and English subtitles. And that's only the beginning: by the end of May, Spanish and German will be added to support the large number of worldwide users who are expected to join the course: http://www.uipath.com/academy
Daniel Dines concludes: "UiPath Academy is our mission to train those who manifest a keen interest in RPA and harvest their knowledge to create a shared culture of truly smart automation."
About UiPath :
UiPath is a leading RPA vendor providing a complete software platform to help organizations like yours to efficiently automate business processes.
Offices in the UK, USA, Romania, India, Singapore and Japan. 200 global customers (75% of which register revenues exceeding 10 billion dollars) and over 150 partners across the globe
Featured Product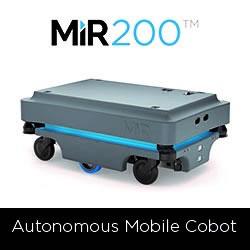 MiR200 is a safe, cost-effective mobile robot that automates your internal transportation. The robot optimizes workflows, freeing staff resources so you can increase productivity and reduce costs. MiR200 safely maneuvers around people and obstacles, through doorways and in and out of lifts. You can download CAD files of the building directly to the robot, or program it with the simple, web-based interface that requires no prior programming experience. With its fast implementation, the robots offers a fast ROI, with payback in as little as a year.