Autonomous Robots Support Local Business with Affordable On-Demand Delivery
Today, Marble -- the maker of autonomous ground-delivery robots -- announced its first partnership with Yelp Eat24 to make food deliveries in San Franciscos Mission and Potrero Hill Districts. The company also announced $4 million in seed funding led by Eclipse and including Maven Ventures, Amplify Partners and Lemnos Labs, which will be used to continue development of the Marble robot fleet and expand delivery services throughout San Francisco and beyond.

Participating local restaurants with Yelp Eat24 will support on-demand delivery with Marbles autonomous robots. Customers will order as before through the Yelp Eat24 App, and a limited set will get the chance to opt-in to a robot delivering their meal. For those customers, the restaurants will place their meals into the carefully-sized, adaptable cargo bays of Marbles robots to send on their way to hungry customers.
"At Marble, our vision is to create helpful robots that improve urban neighborhood living for everyone," said Matt Delaney, CEO and Co-Founder of Marble. "Were creating a more efficient, reliable, and affordable way for people to receive what they need and want from their cities while reducing urban congestion and carbon footprint. Our system bolsters local commerce and unlocks the full potential of the on-demand economy allowing it to be something that everyone can benefit from."
Using similar advanced technology developed for self-driving cars, Marble robots are smart enough to share busy sidewalks with people, and are capable of navigating in a reliable, efficient, and safe fashion. Each robot contains a suite of sensors including lidar, cameras, and ultrasonic that allows them to better perceive the world around them. In addition, Marbles robots are constantly mapping the citys sidewalks in order to optimize transportation routes and delivery time. Marble plans to map the majority of San Franciscos sidewalks in the coming year as they continue to roll out their delivery capabilities.
"We are always looking for innovative new ways to give diners what they want: efficient and affordable food delivery," said Shalin Sheth, Head of Delivery Operations at Yelp Eat24. "Marbles robots help Yelp Eat24 restaurants better serve their communities and were excited to enhance the delivery experience for customers and be able to serve a larger market."
Prior to founding Marble, co-founders Matt Delaney, Jason Calaiaro, and Kevin Peterson met at Carnegie Mellon Universitys Robotics Institute where they worked on the original self-driving cars during the DARPA Grand and Urban Challenges. They also developed autonomous space robots and lunar landers for notable competitions including the Google Lunar XPrize and NASA Regolith Excavation Challenge. Together with their collective backgrounds, they reunited in 2015 to engineer the intelligent delivery robots that are now the face of Marble.
"With the rapid growth of the on-demand and e-commerce markets, solving the last mile delivery problem is incredibly important," said Greg Reichow, General Partner at Eclipse. "The existing solution of using 3000lb fossil fuel burning, city-congesting cars does not scale. We invested in Marble because of their groundbreaking technology and exceptional team. With experience in autonomous vehicles, robotics, and aerospace-grade navigation and sensor technology, Marble is uniquely positioned to tackle this challenge."
Marbles Yelp Eat24-branded robots can be found cruising around the Mission and Potrero Hill districts today. Marble will be expanding to new restaurants and delivery partners each month as they grow their robot fleet and support the growing and changing delivery demands.
About Marble:
Marble is a San Francisco-based startup seeking to re-engineer urban logistics by utilizing autonomous robots for neighborhood delivery. The company was founded in 2015. For more information, please visit http://www.marble.io/.
Featured Product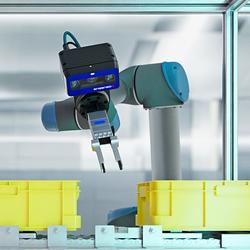 IDS NXT: a platform for a new generation of vision systems for industrial applications. It lays the groundwork to provide easy-to-use yet flexible complete systems that can be used to implement all steps of a vision solution. With IDS NXT ocean, a complete solution especially for AI-based image processing is now available. It allows to solve tasks where classic, rule-based image processing has reached its limits - without any programming effort.