Startup shows technology for efficient development and production of robots
Hanover/Schönaich (Germany), 13th April 2017 - Synapticon GmbH is now taking part for the first time at Hannover Messe, the world's biggest industrial show, in an exciting year for the company. From April 24 to 28, the technology startup will present its hardware and software for the efficient development and production of robotic systems such as industrial robots and mobile service-robots at the joint ETG-booth D18 in Hall 9.

"The guiding theme of this year's Hannover Fair Integrated Industry - Creating Value fits in perfectly with our understanding of a technology that focuses on integration, automation, networking and decentralization. Everyone is talking about industry 4.0, networking and intelligent robotics, but in fact we are still moving in a world full of insula solutions that unnecessarily complicate many processes," explains Nikolai Ensslen, founder and managing director of Synapticon GmbH. "Our strong growth over the past few years shows that we are solving a fundamental problem with our new approach. Through our recent capital increase with the help of various investors, we are given even more opportunities to invest more in research & development, but also in new employees and new locations."
The SOMANET modules are a central component of the Synapticon GmbH portfolio. These are hardware and software components used to implement steering and control systems for robot applications. The focus is on powerful and at the same time cost-effective motor and motion control, as well as comfortable retrieval and integrated processing of sensor data. A SOMANET stack can be individually configured and consists of three modules: a motor controller, which can be selected from different performance classes, a processor and a communication interface for the common industrial real-time protocols. At this year's Hannover Fair, Synapticon will present three new SOMANET modules suitable for micro robots, industrial robot arms and mobile robotics systems.
"Industry 4.0, automation and collaborative robotics all stand for great promises and future phantasies. In the past, however, we have seen that new technologies can only be established if they are quickly available, scalable and affordable," said Nikolai Ensslen. "Especially thanks to the great interest of companies from Asia, where we are currently experiencing a massive automation wave, shows that with our concept, we can help manufacturers of robotic systems effectively."
The young company from the Stuttgart region has been on a steady growth path since its inception. After several moves, the majority of the nearly 50 employees strong team is currently working at the new headquarters in Schönaich. In addition, Synapticon opened an office in Silicon Valley two years ago in order to be as close as possible to the pulse of the times. After the recent financing round the startup plans an additional location in China.
"On the market, we see the massive need for manufacturers to develop robotic systems faster, easier and at lower costs, and ultimately to produce them in series. However, the conventional approaches and the currently predominantly used technology make this practically impossible. In most cases, companies need to order, combine, and coordinate individual elements of various providers. If the prototype then moves into series production, many companies are starting from scratch, "says Nikolai Ensslen. "With our SOMANET platform, which will be presented for the first time at the Hanover Fair this year, we are consistently addressing this challenge with a new concept."
New Drive Modules for Robotics and Mobility
At the Hanover Fair, Synapticon will be showing these three new drive modules for BLDC/PMSM/DC motors. The modules can be used for position, speed and torque control.
• SOMANET IFM Drive DC100 (120W servo motor driver module, 12-24V DC, 5A nominal)
• SOMANET IFM Drive DC1000 (1kW servo motor driver module, 12-48V DC, 20A nominal)
• SOMANET IFM Drive DC5000 (5kW servo motor driver module, 12-48V DC, 100A nominal)
The SOMANET IFM Drive DC1000 drive module is ideally suited for collaborative robotic arms and small robotics. It has four phases and can thus also drive brakes in addition to the engine. The compact module supports up to three feedback systems for position and torque and operates in the low voltage range up to 48 volts. The DC1000 is compatible with PMSM, BLDC and DC brush motors. Via this power electronics, Synapticon's model-predictive vector control is able to control motors in a particularly high-resolution and efficient way. The DC5000 has a different focus. This SOMANET module is currently used mainly in the area of electric mobility, where power up to 5000 watts is called up. The DC100 is especially suitable for small drive solutions.
# # # END # # #
About Synapticon GmbH
Synapticon GmbH, established 2010, is a young embedded systems company based in Schönaich near Stuttgart/Germany and in Silicon Valley (Redwood City, CA). The company specializes in hardware and software for sensor and actuator-intensive, connected systems. Customers benefit from Synapticon's cross-domain expertise through a range of customizable products and turn-key solutions for robotics, autonomous vehicles, smart industrial automation, special machinery and the Internet of Things.
Synapticon's portfolio comprises the product lines SOMANET and OBLAC. It enables developers of cyber-physical systems to easily configure, build and program distributed computing systems with fully integrated motor and motion control, sensor data acquisition and data processing. (www.synapticon.com)
Synapticon has grown organically in recent years. The company now has:
• 47 employees, two thirds of whom are engineers and software developers
• a recently enlarged, new headquarters in Germany
• a branch office in Silicon Valley
• development and product partnerships with several international companies
• a broad portfolio of products, solutions and services
More information: www.synapticon.com
Featured Product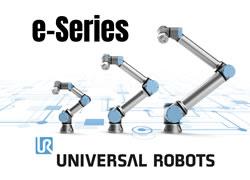 With the new e-Series cobot line, Universal Robots raises the bar for cobots, adding unique new features while significantly strengthening the four core principles defining collaborative robots: fast set-up, easy programming, flexible deployment, and safe operation. With a new built-in, tool-centric Force/Torque sensor the e-Series is ready to take on applications requiring force control right out of the box. A repeatability of 30 micron means the new cobots are suitable for very precise finishing, assembly and electronics tasks. A re-designed user interface decreases cognitive load and expedites program development, while a new externally accessible, 500Hz system bus enables more complex motion control algorithms or profiles.