Guardian LF1 to Stun and Capture Lionfish in Deep Water
HAMILTON, Bermuda, April 19, 2017 /PRNewswire-USNewswire/ -- The non-profit, RSE: Robots in Service of the Environment, today announced the Guardian LF1, an affordable unmanned undersea robot designed to control the population of invasive lionfish in the Atlantic, and launched a Kickstarter campaign to build awareness and support for the project as it enters the next stage of development. Designed to cost less than $1000 and go below sport diver depth down to 400 feet, the Guardian LF1 fully functioning prototypes can stun and collect up to ten lionfish before bringing them to the surface.

The simultaneous launch of the RSE Kickstarter campaign will help decrease populations of the voracious lionfish that is destroying beautiful reefs, threatening coastal tourism, challenging the fishing industry, and massively disrupting the Atlantic marine ecosystem. The Kickstarter campaign will help build a community of supporters that will enable creation and effective deployment of the first test fleet of affordable robots to cull targeted populations of lionfish in the Atlantic.
"The lionfish is the perfect invader, a venomous fish with an unquenchable appetite and no natural predators," said Colin Angle, co-founder and executive chairman of RSE. "The RSE Kickstarter campaign provides an opportunity for the community to get involved in stopping lionfish from further expansion and allowing the recovery of our marine ecosystem."
RSE will unveil the Guardian LF1 at a #EatLionfish Chefs' Throwdown in Bermuda hosted by 11th Hour Racing on April 19, ahead of Earth day. In advance of the #EatLionfish Chefs' Throwdown, the Guardian LF1 was used to showcase the important role low-cost robots can play in creating a reliable and sustainable way to bring lionfish meat to market.
The Guardian LF1 undersea robot consists of two main components: an underwater remotely operated vehicle (ROV) with an innovative capture mechanism, tethered to a remote surface control station. The underwater ROV is deployed from the ocean surface to seek out lionfish which can be located up to several hundred feet below safe sport diver depth. An operator at the surface controls the Guardian LF1 movements via a game controller locating and capturing lionfish. Eight separate thrusters mounted on the ROV enable it to move smoothly in all planes of motion and maintain position regardless of undersea currents using an onboard autopilot.
Once a lionfish has been identified by the operator, through cameras and lights on the ROV, a pair of electrodes mounted on the ROV are used to apply a small electric current to the water near the fish. The operator safely controls the application of this low voltage alternating electric current, activating it for a very short period to stun and immobilize the fish. Similar technology is used regularly by marine biologists in freshwater to humanely capture and release fish unharmed. The RSE team collaborated with experts in the field of electrofishing to adapt this technology for use in salt water.
As soon as the lionfish is immobilized, it is quickly suctioned into a containment vessel on the ROV. An innovative suctioning system was especially designed by the RSE engineering team that requires minimal power while producing a strong flow to draw in the stunned fish. A single robot can capture up to 10 lionfish before returning to the surface. The design is modular which will allow future versions to hold more or fewer fish.
RSE's crowdfunding campaign, which runs from April 19 to June 3, will launch the non-profit's efforts towards rapid development of the Guardian LF1 project as well as the creation of a fleet of test robots. Those looking to make contributions and join our community can visit RSE's crowdfunding campaign site.
RSE's innovative and viable solution to the issue of the invasive lionfish has been supported by two programs of The Schmidt Family Foundation: Schmidt Marine Technology Partners, which provided early funding to RSE for research and development, and 11th Hour Racing, which establishes strategic partnerships within the sailing and marine communities to promote collaborative systemic change for the health of our ocean. RSE has also been supported through a strong partnership with the Bermuda Government through their technical experts from the Ministry of the Environment which includes fisheries and marine conservation.
"Lionfish are a formidable threat to the fisheries and reefs in Bermuda and throughout the Western Atlantic," said Sylvan Richards, Minister of the Environment, Bermuda Government. "Working with RSE to innovate this unique solution allows us to extend our stewardship of Bermuda's biodiversity to areas we cannot easily reach, and help other jurisdictions facing the same problem."
Additional information on the Guardian LF1 project and crowdfunding campaign is available at www.robotsise.org.
About RSE - Robots in Service of the Environment
Founded by roboticists, environmentalists and scientists, Robots in Service of the Environment (RSE) is an all-volunteer non-profit organization focused on developing robot technology to solve environmental problems. Established in the fall of 2015, the non-profit's first project is to develop an undersea robot to slow the destruction caused by the lionfish, an invasive species that is drastically reducing biodiversity and coral reef health in all warm waters of the western Atlantic. By combining technology development with mass manufacturing techniques, RSE offers a unique set of capabilities to solve some of the world's most challenging environmental problems on a massive scale.
RSE Social Media
For more information about RSE and the launch of the lionfish undersea robot, please visit http://www.robotsise.com/; on Twitter @robotsise and Facebook at https://www.facebook.com/RobotsISE/.
Featured Product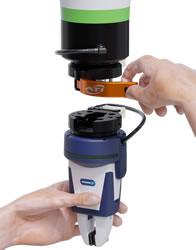 Simpler, stronger, and more precise. ATI Industrial Automation has developed a series of Manual Tool Changers that provides a cost-effective solution for quickly changing tools by hand. They feature a unique design that combines high strength, excellent repeatability, and a patent-pending screw-cam locking mechanism with multiple fail-safe features, which resists vibration and prevents loosening. These robust and compact Manual Tool Changers can handle payloads up to 80 pounds (36 kg) and pass pneumatics and electrical signals.