Attendees are invited to View the Aircraft at Booth 841
HOUSTON--(BUSINESS WIRE)--Valmie Resources Inc. (OTCBB:VMRI) announces it will unveil the newest in its line of aircraft at AUVSIs (Association for Unmanned Vehicle Systems International) XPONENTIAL 2017, the largest trade show for the booming unmanned systems and robotics sector.

Valmie will be incorporating five of the featured aircraft as it initiates commercial operations, offering a combination of unmanned vehicles, components, and services. Valmie acquired the base units from ALTI UAS, who will be co-presenting at the booth.
Interested members of the public are invited to visit with the Valmie and ALTI teams, and view the aircraft in real life at Booth 841.
ALTIs next generation Transition unmanned aerial vehicles (UAVs) will be on display at XPONENTIAL to demonstrate the aircrafts advanced and efficient fixed wing system with vertical take off and land (VTOL) capability.
ALTI officially launched the Transition system across the world last year in conjunction with AUVSIs Unmanned Systems Technology Magazine, which featured the ALTI Transition as their June/July cover story. Since then the Transition has been well proven with confirmed flight performance and endurance of up to seven hours and 500km range per flight. The Transition is made from the highest-grade materials, using unique proprietary techniques to ensure quality and reliability. A highly advanced aerodynamic design allows for low stall speeds, efficient cruise with very low drag, excellent stability, and extremely low weight. The airframe is completely modular and can be rapidly deployed from case to air in under 10 minutes with only two operators required.
As demonstrated by encouraging statistics, the outlook for the UAV sector is strong. Consulting group PricewaterhouseCoopers LLP predicts the global market for commercial applications of drone technology will explode to as much as $127 billion by 2020. According to Bloomberg Technology, the UAV industry is due to boom by more than 6,000 percent by the end of this decade, as drones enhance crop yields, validate insurance claims, and assist in filming Hollywood blockbusters.
Commenting on these projections, Valmie President and CEO Gerald B. Hammack said, "The favorable outlook in the UAV sector is reassuring. Offering leading edge UAVs such as ALTIs latest model, along with Valmies 333 exemption status and the industry expertise we have at our disposal, puts our company in a prime position for growth."
In addition to ALTI UAS, Valmie has brought together top resources to offer customers many options in aircraft, components, and services. Vertitek, Valmies wholly owned subsidiary, delivers design and customization of prototypes for commercial UAVs in a wide range of sizes and categories.
Another resource available to Valmie is Praxis Aerospace Concepts (PACI), a well-respected U.S. consultancy offering a unique mix of proprietary technology and domain expertise. The firm specializes in white label services and provides unmanned systems and autonomous technology testing for various universities and corporations.
XPONENTIAL is where the global community of leaders in drones, intelligent robotics, and unmanned systems will come together to shape the future of the industry. Thousands of people in the unmanned systems and robotics industry from around the world will be in Dallas from May 8 through May 11 to increase their knowledge about the future of industry policy and regulation, network with peers, and get a look at the latest technology.
"Companies considering incorporating UAV technology should attend XPONENTIAL and visit Booth 841 to view the exciting ALTI Transition," said Hammack. "We invite businesses to explore how Valmie can incorporate these and other aircraft and services to enhance competitiveness and enable rapid growth."
About Valmie Resources (OTCBB:VMRI)
Valmie Resources is a U.S. company actively pursuing opportunities for the commercialization of leading edge products and services in the rapidly expanding technology industry. Valmie seeks concepts with valid business models positioned to make a significant impact within the four key "mega sectors" of technology: software, hardware, networking, and semiconductors. Valmie brings operating talent, tools, and leadership to emerging companies in these sectors, promoting industry awareness and developing economically sustainable partnerships while increasing shareholder value.
For further information visit http://valmie.com
Featured Product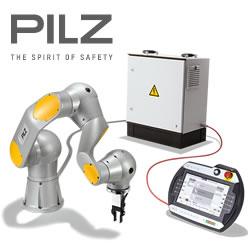 Our service robotics modules give you an easy start in robotics. Assemble your individual robot application - exactly according to your requirements: Service robotics modules consists of the manipulator module PRBT, the control module PRCM, the operating module PRTM and ROS modules. Our collision measurement set PRMS for human-robot collaboration (HRC) supports you reliably on your path to a safe application. Application areas of the service robotics modules can be found in service robotics and industrial environments. Benefit from our cost-efficient, flexible solution!