Rethink Robotics' ClickSmart family of gripper kits shows that smart automation no longer stops at the wrist
BOSTON, April 20, 2017 /PRNewswire/ -- Rethink Robotics today announced the ClickSmart™ series, a unique solution for end-of-arm tooling that incorporates smart sensing and rapid swapping capabilities, resulting in the first fully integrated robotic solution available on the market through a single vendor.

Rethink's latest innovation to simplify robot deployments, the ClickSmart series, offers the new ClickSmart Plate, an intelligent toolplate that lets users swap end effectors in seconds, by hand and without any tools. Embedded sensors in the five new gripper kits enable intelligent grasping and smarter part handling on Rethink Robotics' Sawyer™ robot powered by the Intera™ 5 software platform.
The ClickSmart family of gripper kits contains the essential components that allow end users to quickly construct end effectors suitable for most automatable tasks, enabling faster deployments and saving manufacturers hours in programming and part sourcing. The ClickSmart series includes five different categories of gripper kits and a ClickSmart Plate with embedded sensing, gripper recognition and the ability to access actuators and sensors through Rethink Robotics' software platform.
"The ClickSmart family of gripper kits will allow our customers to deploy robots faster, more intelligently, in more tasks and applications and without any time-consuming customization," said Scott Eckert, president and CEO, Rethink Robotics. "Never before has a robot manufacturer offered a single source solution for fully integrated deployments. Through the combination of Sawyer, Intera 5 and ClickSmart, the single source is Rethink."
The ClickSmart family of gripper kits greatly reduces sourcing efforts for manufacturers, who no longer need to search through multiple catalogs to select components and compare prices. Instead, manufacturers can purchase a fully integrated solution from Rethink Robotics. The gripper kits are available in large pneumatic, small pneumatic, large vacuum, small vacuum and foam vacuum options.
Customizing an end effector can be a significant pain point for industrial robot users, as it requires specialized expertise in mechanical design, signal configuration and task flows that many manufacturers don't have on staff. A well-designed and easily configured end effector is vital to the success of the most high-performing and complete automation solutions, and will open up a variety of new applications for any robot.
With a simple click, manufacturers can switch out end effectors on the robot in seconds. The ClickSmart Plate has an embedded memory module, which stores the configuration of the attached end effector. When the ClickSmart Plate is attached to any Sawyer robot, the robot will immediately recognize the type of end effector and how to control it, with no programming needed.
"Rethink Robotics' ClickSmart family of gripper kits is a game changer for manufacturers who want to deploy these robots more quickly. These grippers allow more flexibility to switch tooling between applications.," said Phil Shaltz, President, Shaltz Automation. "Flexible robots and tooling in today's manufacturing environment is what is needed to provide efficiency and application differentiation in this ever-changing automation landscape."
The ClickSmart series will be available for purchase beginning in May. For more information, visit www.rethinkrobotics.com.
About Rethink Robotics
Rethink Robotics is transforming the way manufacturing gets done, with smart, collaborative robots able to automate the 90 percent of tasks that until now, have been beyond the reach of traditional automation. Its Baxter® and Sawyer robots, powered by the Intera software platform, adapt to real-world variability, can change applications quickly and perform tasks like people do. The result: manufacturers of all shapes, sizes and industries get the fast-to-deploy, easy-to-use and versatile automation solution they need to increase flexibility, lower cost and accelerate innovation.
Based in Boston, the Rethink product suite is available in Asia, Europe and North America. The company is funded by Bezos Expeditions, CRV, Highland Capital Partners, Sigma Partners, DFJ, GE Ventures and Goldman Sachs. For more information about Rethink Robotics, please visit www.rethinkrobotics.com and follows us on Twitter @RethinkRobotics.
Featured Product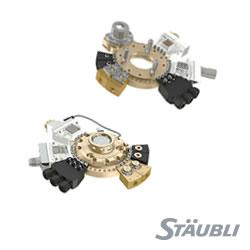 TX2 robots: redefining performance by offering collaborative safety and high performance in a single machine. These pioneering robots can be used in all areas, including sensitive and restrictive environments, thanks to their unique features. Safety functions are easy and inexpensive to implement. They allow a higher level of interactions between robots and human operators, while still guaranteeing protection of your people, production and investment.