Brand new Falcon Edition Drone kit boasts an industry 1st WiFi booster compatible with both 2.4 & 5.8GHz signals for guaranteed connectivity, dual helical antennas, custom cooling and an HD signal.
A new year and new bars are raised . . . signal bars that is. A mere 6 months after the debut of the coveted Phantom 4 Pro from DJI, the drone upgrade kit gurus at Drone World have launched their industry-best Phantom 4 Pro/+ Falcon Kit, equipped with FireBridge 2 technology and many other popular DW accessories.

See the Firebridge 2 in Action: FireBridge 2 Technology
With the signature Falcon wrap, an improved controller, and the ever-popular L-series camera filters, the Phantom 4 Pro and Pro+ Falcon Kit improves on the famed Phantom 4 Falcon kit. Drone lovers are sure to appreciate that the remotes boosted signal is functional with automatic frequency-switching wifi boosters. The result is phenomenal penetration through trees and urban interferences and improved range regardless of either the 2.4 or 5.8ghz frequency.
As featured in Rotor Drone magazine and reviewed by National Geographic, The Phantom 4 Falcon Kit is a cut above the rest. It is now newly available for the P4 Pro: See it here.
The most notable features of the DJI Phantom 4 Pro+ Bundle Kit are:
*New FireBridge 2 Remote Controler: With this top of the line remote controller modification topped by a dual helical antenna, the techs at Drone World have done it again for the Phantom 4 Pro/+. Inside are proprietary internal signal boosters for both 2.4 GHz and 5.8 GHz frequencies. Drone World utilizes the highest grade components, from the antenna, to the RG58 wiring, to the custom cooling system. This internally amplified remote allows for farther range than stock components while also preserving the live HD video feed in extreme flying conditions. Customers can choose from the FireBridge Remote Range Extender Upgrade or the Dual Helical Antenna.
L-series camera filters: Three distinct camera filters making shooting video and taking pictures better than ever. New to the Falcon kit is a double stacked ND8 & CPL filter, which joins the highly acclaimed variable-twist ND2-400 and a solo CPL filter for quick everyday use. All filters utilize an unprecedented 16 protective coatings and a new waterproof coating to ensure the best shot is achieved. Maximum transparency and the lowest possible refractive rates are staples of superiority compared to other polarized pro filters on the market with far fewer coatings.
Controller Sunshade: Flying in bright, sunny conditions is no longer a problem with this comfortable, useful sunshade which attaches to the mobile device for glare free flying. New for 2017 is a more convenient quick-access flap that enables easy access to every part of the tablet.
Thor Super-Charging Station™: The king of charging stations, THOR allows for three batteries and a remote to be safely charged simultaneously. With many knock offs floating around the internet the most notable keywords here are, "safely charges" and "king" because it uses a workhorse of a cooling fan that is rated up to 20,000 hours of use. When charging dangerous LiPo batteries, blue colored eBay chargers are not at the of drone Santas list.
Carbon Fiber Propellers: Fly faster with carbon fiber propellers, which add 5-10mph to the top speed of the Phantom 4 Pro/+ thanks to much lighter mounting hubs.
Carbon Fiber Red/Black Skin Wrap: No Falcon Kit is complete without the signature carbon fiber wrap, decking out the Phantom 4 Pro/+ in an eye-catching red.
U3 Rated memory card: Rounds out the kit as the top memory card for filming 4K media using the P4Pros new 60/MB with 1 inch camera. This card features twice the cycle life of the factory DJI memory card.
"The Falcon Upgrade Kit for the Phantom 4 Pro and Pro+ provides drone pilots with a ton of great improvements to an already stellar drone," commented Stephen McKenna, President and Founder of Drone World. He continued, saying "The modifications and enhancements of this kit are tested and proven - they are even better than those we created for the original Phantom 4. The result is a better drone kit with ultimate performance, ultimate penetration, next-level speed, and plenty of accessories to complete your P4Pro bragging rights." Beginning next month, customers can send in their P4P or P4P+ remote controller for a professional upgrade to the FireBridge 2, complete with a full warranty from Drone World and DJI.
About Drone World:
Drone-World.com is the Webs preferred destination for consumer and professional unmanned aerial drones, drone kits, and drone accessories. Drone-World.com combines superior customer service and know-how with over 5 years of drone experience and 10 years of web sales and service. They specialize in custom DJI Phantom & Mavic bundle kits, including the highly popular DJI Phantom 4 Pro/+ Executive & Falcon Edition kits featured in RotorDrone Magazine as well as commercial use Inspire 2 kits, Osmo kits and the newly released DJI Phantom 4 Pro kit and the DJI Phantom 4 Pro+ (Plus) bundle. Use coupon code ACC15 for 15% off Drone World brand accessories.
Featured Product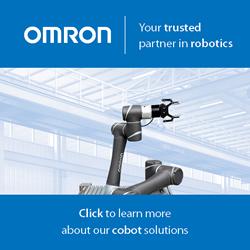 Humans and robots can now share tasks - and this new partnership is on the verge of revolutionizing the production line. Today's drivers like data-driven services, decreasing product lifetimes and the need for product differentiation are putting flexibility paramount, and no technology is better suited to meet these needs than the Omron TM Series Collaborative Robot. With force feedback, collision detection technology and an intuitive, hand-guided teaching mechanism, the TM Series cobot is designed to work in immediate proximity to a human worker and is easier than ever to train on new tasks.