London, UK, 25th April 2017, Mark Roberts Motion Control Ltd., industry leaders in moving camera robotics receives the highly prestigious Queen's Award for Enterprise: International Trade 2017.
Mark Roberts Motion Control specialises in precision motion and control of camera movement for a wide variety of applications, from sports broadcast to feature film and commercial visual effects. The committed and dedicated team designs and creates solutions that have seen the companys export sales and brand reputation substantially increase year on year - with 2017 on target for another record high.

Assaff Rawner, CEO of Mark Roberts Motion Control (MRMC) comments:
"This is Britains highest business award and it is a great honour to receive. Our company is among the lucky few businesses to achieve the UKs highest trade accolade.
Last year we celebrated our 50th anniversary, so the timing of this award seems somewhat serendipitous. Weve been creating robotics for over 50 years, and as a company have always striven to break new ground with our technology. Our engineering has taken us to the forefront of our industry, with international trade making up a large portion of our revenue. I feel this award is definitely a testament to that."
The robotics company had its humble beginnings 50 years ago, in 1966, when Australian born engineer, inventor and part time racing driver Mark Roberts set up a company to service and upgrade old animation rostrum tables that were used in everything from film titles, cell animation and news clips.
Mark Roberts Motion Control has won numerous awards for its companys achievements and engineering skill, including an Academy Award. It now has the honour of the Queens Award.
Matt Roberts, the son of Mark Roberts had a few words to say about the award:
"My father would be extremely proud of this award. He built this company from his garage. To get the UKs most prestigious business award is incredible. I feel the Queens Award acknowledges MRMCs excellence and growth as a British engineering company."
Today, MRMC has a global presence and was recently acquired by Nikon, the Japanese multi-national corporation, who for many years has worked closely with MRMC developing imaging related technology.
Featured Product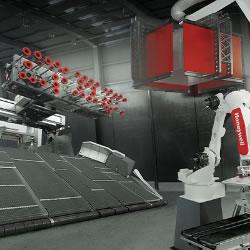 Challenges on the loading dock are characteristic of greater pressures from the rise of e-commerce. Loading and unloading freight from trailers, trucks and shipping containers are arduous, repetitive tasks plagued by high turnover. Even with regularly available staff, manually unloading freight and the constant lifting and twisting results in fatigue and inconsistent, declining productivity. Robotics capable of fully automating unloading tasks bring a new paradigm to the dock. High performance and flexibility push unloading from a labor-heavy, manual chore to an automated, refined process. High-performing DC workers can take more desirable positions, with relief from unpleasant work conditions. Management gets to replace uncertainty and staffing challenges with a reliable, automated process, with data to fuel continuous improvement.