Gallagher to discuss the roles for operational intelligence in unmanned aerial systems safety and National Airspace integration
WHAT:

Xponential 2017 will be held May 8-11, 2017, hosted by the Association for Unmanned Vehicle Systems International (AUVSI), a global, nonprofit organization devoted to advancing the unmanned systems and robotics community. The four-day conference will bring together leaders in drones, intelligent robotics and unmanned systems to present current activities and discuss the industrys future.
The May 10 panel discussion, "The Technology Behind Drone Delivery: A Discussion on Critical Technical Aspects," will feature remarks by Simulyze CEO and President Kevin Gallagher. The panel discussion will address the potential for drone delivery services and the key technical challenges that must be considered and overcome for drone delivery to become a reality. Other industry representatives on the panel will include executives from Amazon Prime Air, Airmap and Zipline.
WHEN & WHERE:
Session: "The Technology Behind Drone Delivery: A Discussion on Critical Technical Aspects"
Date and Time: Wednesday, May 10, 2016; 10:30 A.M. - 12 P.M.
Location: Kay Bailey Hutchison Convention Center, 650 S. Griffin St., Dallas, TX 75202,
Room C147/148/154
WHO:
Kevin Gallagher is the president and CEO of Simulyze, Inc. With more than 30 years of experience in systems engineering, operational support and situational awareness, Kevin is an expert in how operational intelligence can be leveraged in commercial unmanned aerial systems (UAS) operations as a key tool for safely integrating UAS into the National Airspace and helping pilots make smarter, better informed decisions.
In April 2016, Simulyzes Mission Insight application was successfully deployed in support of NASAs Technical Capability Level 1 UAS testing, the first nationwide test of air traffic management for drones. Kevin and his Simulyze team directly supported operations at two of six UAS test sites. Mission Insight was the only enterprise-level solution used that integrated all aspects of multiple flight operations into a single interface.
Last summer, Simulyze also successfully deployed Mission Insight in support of the first U.S. ship-to-shore drone delivery. Taking place on the New Jersey coastline, the event featured independent drone delivery service Flirtey and the Johns Hopkins University School of Medicine demonstrating the potential use of UAS to deliver medical supplies during a natural disaster or humanitarian crisis. The UAS flights were flown round-trip from a ship located about ½-mile offshore to the Cape May Ferry Terminal in North Cape May, N.J.
About Simulyze:
Simulyze, Inc. is a leading provider of operational intelligence (OI) technology and applications that empower both federal and commercial organizations to make better, more strategic decisions in real-time. Built on its OI platform, Simulyzes flagship product, Mission Insight™, is the industrys leading, commercial, off-the-shelf (COTS) application that makes complete situational awareness easy to attain and easy to deploy. It processes and analyzes large streams of data from disparate sources to provide air, land and sea operators, commanders and managers with a common operating picture (COP) in a customized graphical interface. Since 2000, Simulyzes OI technology has been deployed across numerous organizations worldwide, including the U.S. military/Department of Defense (DoD), the U.S. intelligence community, Homeland Security and commercial UAS applications. Simulyze is a partner to the federal government on several UAS initiatives, including NASAs UAS Traffic Management (UTM) research platform and program, and FAAs UAS testing sites in North Carolina, North Dakota and Alaska. For more information, visit http://www.simulyze.com. Follow on Twitter: @Simulyze.
Featured Product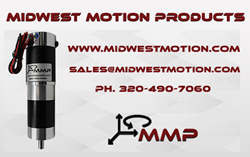 MMP specializes in supplying high-quality Brushed & Brushless DC Motors & Gearmotors for Robotics and Automation Equipment with a wide range of motor windings and gear ratios. With an impressive track record of more than 8,000 released DC Gearmotors designs and over 2,000,000 individual part numbers, we are renowned for our ability to handle large-scale orders. Due to our huge on-hand inventory, we are also well known for lightning-fast delivery of our standard products. We take pride in our dedicated customer service and our team of knowledgeable sales and engineering experts who are ready to assist you with custom design solutions tailored to your specific application. Additionally, we also offer a wide range of complimentary products, such as DC Motor Controls, DC Linear Actuators, AC-DC power Supplies, and DC Servo Amplifiers and others.