Simplify the implementation of many common applications
Québec City, Canada, May 4th, 2017 - Robotiq offers new tools to help collaborative robots beginners save a lot of time programing their robot. Program templates are now available and ready to be downloaded on Robotiqs online resource center . They simplify the robots programming so it can be put to task in a record time.

"Even the simplest robot on earth requires to be programmed, explains Robotiq Integration coach David Gariépy. We pre-programmed the most currently used features to offer a user-friendly solution that helps many people at the same time. The basic coding is already done so new operators have something to start with."
The Program Templates facilitate the implementation of many common applications using Robotiq products and UR robots. Every package i ncludes a program file containing the template for a specific application, a step-by-step procedure describing how to use the application itself, and a demonstration video.
These new program templates, built with the Do It Yourself mantra in mind, allows automation pros beginning with collaborative robots to hit the ground running with a pre-built program structure that is easier to adapt to their productions specific needs. Four program templates are now available on Robotiqs website , with a new program expected to come out every week.
Stay tuned for more and feel free to ask your questions and suggest new program templates on DoF .
Get Robotiq program templates here
Visit DoF, our automation experts community here More questions? Visit our Resources center here
About Robotiq
At Robotiq, we free human hands from repetitive tasks. We help manufacturers overcome their workforce challenges by enabling them to install robots on their own. They succeed with our robotic plug + play tools and the support of our automation experts community.
Robotiq is the humans behind the robots: an employee-owned business with a passionate team and an international partner network.
Featured Product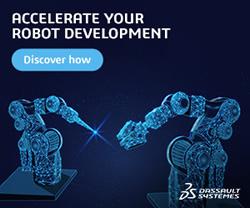 The 3DEXPERIENCE platform on the cloud provides robotics companies with a unified and collaborative solution to manage their end-to-end process in an effective way by bringing together all teams and disciplines involved and guarantee digital continuity during the entire product lifecycle. Connect the dots from robot design to marketing activities, from production to maintenance and bring your robot to market up to 30% faster!