Valmies new commercial base unit from ALTI UAS lifts off on its maiden flight. The UAV will be on display at the upcoming XPONENTIAL 2017 in Dallas next week.
HOUSTON--(BUSINESS WIRE)--The Valmie Resources Inc. (OTCBB: VMRI) team headed to Nevada this week where it conducted a successful test flight of one of the five commercial base units the company purchased from ALTI UAS. The test flight was held in conjunction with Praxis Aerospace Concepts (PACI).

Valmie will be incorporating five of the featured aircraft as it initiates commercial operations, offering a combination of unmanned vehicles, components, and services.
The aircraft will be on display at AUVSIs (Association for Unmanned Vehicle Systems International) XPONENTIAL 2017, the largest trade show for the booming unmanned systems and robotics sector. Event attendees are invited to visit with the Valmie and ALTI teams and view the aircraft in real life at Booth 841.
ALTIs next generation Transition unmanned aerial vehicle (UAV) features an advanced and efficient fixed wing system with vertical take off and land (VTOL) capability. ALTI officially launched the Transition system across the world last year in conjunction with AUVSIs Unmanned Systems Technology Magazine, which featured the ALTI Transition as their June/July cover story.
Since then the Transition has been well proven with confirmed flight performance and endurance of up to seven hours and 500km range per flight. The Transition is made from the highest-grade materials, using unique proprietary techniques to ensure quality and reliability. A highly advanced aerodynamic design allows for low stall speeds, efficient cruise with very low drag, excellent stability, and extremely low weight. The airframe is completely modular and can be rapidly deployed from case to air in under 10 minutes with only two operators required.
In addition to ALTI UAS, Valmie has brought together top resources to offer customers many options in aircraft, components, and services. Vertitek, Valmies wholly owned subsidiary, delivers design and customization of prototypes for commercial UAVs in a wide range of sizes and categories.
Another resource available to Valmie is PACI, a well-respected U.S. consultancy offering a unique mix of proprietary technology and domain expertise. The firm specializes in white label services and provides unmanned systems and autonomous technology testing for various universities and corporations.
XPONENTIAL is where the global community of leaders in drones, intelligent robotics, and unmanned systems will come together to shape the future of the industry. Thousands of people in the unmanned systems and robotics industry from around the world will be in Dallas from May 8 through May 11 to increase their knowledge about the future of industry policy and regulation, network with peers, and get a look at the latest technology.
"XPONENTIAL attendees are encouraged to visit Booth 841 to view the exciting ALTI Transition," said Gerald B. Hammack, Valmie President and CEO. "Valmie welcomes interested companies to contact Valmie for a consultation to explore how this or other Valmie systems can be combined with services to benefit an existing or upcoming project."
About Valmie Resources (OTCBB: VMRI)
Valmie Resources is a U.S. company actively pursuing opportunities for the commercialization of leading edge products and services in the rapidly expanding technology industry. Valmie seeks concepts with valid business models positioned to make a significant impact within the four key "mega sectors" of technology: software, hardware, networking, and semiconductors. Valmie brings operating talent, tools, and leadership to emerging companies in these sectors, promoting industry awareness and developing economically sustainable partnerships while increasing shareholder value.
For further information visit http://valmie.com
Featured Product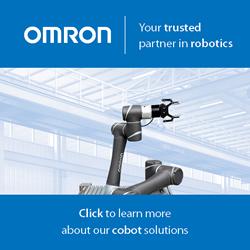 Humans and robots can now share tasks - and this new partnership is on the verge of revolutionizing the production line. Today's drivers like data-driven services, decreasing product lifetimes and the need for product differentiation are putting flexibility paramount, and no technology is better suited to meet these needs than the Omron TM Series Collaborative Robot. With force feedback, collision detection technology and an intuitive, hand-guided teaching mechanism, the TM Series cobot is designed to work in immediate proximity to a human worker and is easier than ever to train on new tasks.