Apparel Manufacturing Expert Brings Wealth of Industry Insight and Experience
ATLANTA, May 5, 2017 /PRNewswire/ -- SoftWear Automation, Inc., an Atlanta-based machine-vision robotics firm, today announced that Dr. Mike Fralix will be working with the company as a Technology Evangelist. Leveraging Dr. Fralix's industry experience demonstrates SoftWear Automation's continuing focus on creating and expanding autonomous Sewbot™ worklines for the sewn products industry.

Fralix, who holds a Doctorate in Technology Management, is the current President and CEO of Textile Clothing Technology Corporation [TC]2 and he will continue in that position while working with SoftWear Automation. He also serves on the Board of Directors of the AAFA (American Apparel and Footwear Association) and brings decades of experience in apparel manufacturing, including research and development, operations management, and corporate management. Fralix will champion SoftWear's Sewbots™ onto the factory floor while helping to identify key partners that will support and enable more local manufacturing.
"Mike brings a remarkable amount of industry knowledge and expertise," said Raj Rajan, Chairman and CEO of SoftWear Automation. "We're thrilled to have him evangelize our technology to help redesign the textile and apparel industry supply chain."
"The sewn products industry is ripe for innovation, and SoftWear Automation is perfectly positioned as a leader in this space," said Dr. Fralix. "I'm excited to join the team at this rapid stage of its growth. This is a fantastic opportunity to help lead the adoption of SoftWear's unique robots in a market I know so well."
SoftWear Automation's Sewbots™ are currently commercially deployed in the home goods and automotive sectors. With Sewbots™ produced goods currently on retail shelves globally, SoftWear is committed to disrupting, in a positive way, the $100 billion sewn products industry. Sewbots™, fully autonomous sewing worklines, allow companies to SEWLOCAL™, geographically shortening the distance between consumers and manufacturers.
An internationally recognized speaker, Dr. Fralix offers expertise on a variety of topics, including 3D product development, sizing for fit, production scheduling, industrial engineering, ergonomics, full package production, simulation, lean manufacturing systems, sustainable technologies, and the digital supply chain. He holds a Bachelor's degree in Applied Mathematics and Philosophy from North Carolina State University, a Master's degree in Business Administration from Duke University, and a Doctorate in Textile Technology Management from North Carolina State University, where he was appointed an Adjunct Associate Professor in 2009. He is also active in several industry organizations including the International Apparel Federation, where he serves as a member of the Board and Chairman of the Technical Committee.
About SoftWear Automation, Inc.
SoftWear Automation, Inc. is an Atlanta-based machine-vision and robotics startup disrupting the $100 billion sewn products industry by creating autonomous sewn products work lines in home goods, footwear and apparel. SoftWear's fully automated Sewbots™ allow manufacturers to SEWLOCAL™, moving their supply chains closer to the customer while creating higher quality products at a lower cost. For more information, visit www.softwearautomation.com.
Featured Product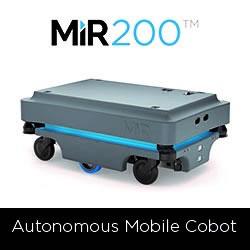 MiR200 is a safe, cost-effective mobile robot that automates your internal transportation. The robot optimizes workflows, freeing staff resources so you can increase productivity and reduce costs. MiR200 safely maneuvers around people and obstacles, through doorways and in and out of lifts. You can download CAD files of the building directly to the robot, or program it with the simple, web-based interface that requires no prior programming experience. With its fast implementation, the robots offers a fast ROI, with payback in as little as a year.