High-performance video processing demo will run for duration of show and demonstrate how you can go from data to decision.
ADLINK Technology, a global provider of leading edge computing solutions that drive data-to-decision applications across industries, together with LCR Embedded Systems, will showcase an integrated demonstration with SWaP-optimized, rugged unmanned systems preprocessing, communicating and distributing real-time data to decision makers. The demonstration takes place in Booth 306 at AUVSI XPONENTIAL 2017, May 9 - May 11, at Kay Bailey Hutchison Convention Center in Dallas, TX.

The demonstration will consist of two connected SWaP/C-friendly rugged systems suitable for deployment on unmanned vehicles, one from ADLINK and one from LCR Embedded Systems. A drone-mountable camera will be connected to the ADLINK HPERC™ system utilizing PrismTechs Vortex DDS software, enabling the camera to capture, track, and transmit several targets simultaneously. This information will then be transmitted in real time to LCR Embedded Systems recently announced Featherweight VPX System, powered by Intel® Xeon® D processor, illustrating communication to a receiving system where it can be further processed and distributed.
"One of the most important things to keep in mind about any unmanned vehicle system is that the system doesnt stop at the vehicle," said LCR Embedded Systems President David Pearson. "The vehicle is only the most peripheral part of a much larger distributed system that might be composed of other air, land, and marine vehicles, portable and fixed ground stations, and more. LCR Embedded Systems is thrilled to exhibit at AUVSI XPONENTIAL 2017 with valued partner ADLINK Technologies to show how, together, we can offer complete solutions that slot in at any point within unmanned vehicle systems, no matter how extensive they may be."
"Unmanned systems provide a quantum leap in the way battlefield information is gathered. As these systems accelerate and evolve, sensor and data processing requirements challenge the performance envelope of small form factor, ruggedized, high performance computing solutions," said Elizabeth Campbell, General Manager at ADLINK Americas. "We are excited to showcase LCR Embeddeds chassis designs and system platforms based on ADLINK's Extreme Rugged™ small form factor boards, computer-on-modules, and slot card architectures such as AdvancedTCA®, CompactPCI®, and VPX boards."
Learn more about ADLINKs Extreme Rugged™ services.
For more information on AUVSI XPONENTIAL 2017 or to register for an expo pass, please visit http://www.xponential.org/xponential2017/public/Content.aspx?ID=2207
About LCR Embedded Systems
LCR Embedded Systems designs, develops, and manufactures rugged and lab-grade chassis, backplanes, and fully integrated systems for the aerospace and defense, commercial, rail, and industrial markets with a focus on standards-based form factors such as VPX/VME, AdvancedTCA, COM Express, and CompactPCI. LCR Embedded Systems is an AS 9100 C and ISO9001:2008 certified company, with approved J-STD-001 Class 3, CCAP, FOD, and ESD programs in place.
About ADLINK
ADLINK Technology is leading edge computing with solutions that drive data-to-decision applications across industries. Our products include motherboards, blades, chassis, modules, gateways, systems and end-to-end solutions based on industry standard form factors. Many products are Extreme Rugged™, supporting extended operating temperature ranges, and MIL-STD levels of shock and vibration. ADLINK is active in several standards organizations and interoperability initiatives. For more information, please visit http://www.adlinktech.com.
# # #
All trademarks are the property of their respective owners in the U.S. and other countries.
Featured Product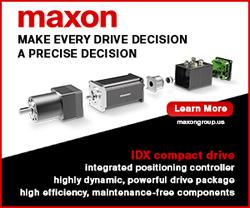 Discover the world of drive technology from a leading worldwide supplier of innovative customized drives. - Manufacturer of brushed and brushless DC motors, gearheads and motion controllers - Custom drive systems, quantities as low as a single unit - Certified for aerospace and medical applications